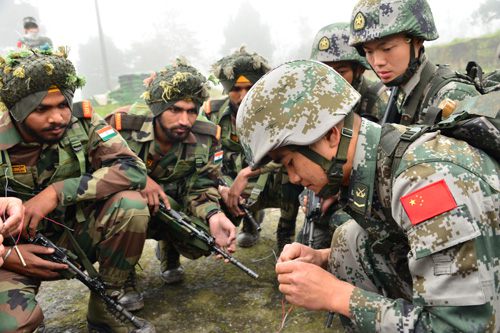 BANDING TOGETHER: A Chinese soldier dismantles an explosive device during a joint anti-terror drill involving China and India in Chengdu, capital of southwest China's Sichuan Province, on November 7 (WANG DESI)
China will establish a national security committee, improving systems and strategies for ensuring national security, according to a decision of the Third Plenary Session of the 18th Communist Party of China (CPC) Central Committee, held on November 9-12 in Beijing.
President Xi Jinping, who is also general secretary of the CPC Central Committee, gave an explanation as to why the organization was established at the Party meeting. According to a report from Xinhua News Agency, Xi stated that the committee will be responsible for a range of tasks concerning national security, including formulating and implementing strategies, promoting the establishment of a legal framework, devising principles and policies, as well as researching and resolving major issues facing the nation.
China is currently facing pressure on two fronts: internationally, the country needs to safeguard its sovereignty, security and development interests; domestically, political security and social stability should be ensured, Xi said.
The president warned that the range of threats to national security, both predictable and unpredictable, has increased remarkably, leaving the country's response system not yet fully capable of meeting the needs. A powerful platform that can help coordinate security efforts is needed, he added.
"Establishing a national security committee to unify the leadership and direction of related measures is an urgent matter," Xi said.
In recent years, many Chinese scholars have been calling for China to establish a state-level security body that is based on the needs of a more complex international environment.
Shi Yinhong, a professor at the School of International Studies of Beijing-based Renmin University of China, said that China prepared for setting up such an organization when the circumstances were less urgent than now. He commented that the decision to establish a national security committee shows that, as the country grows stronger and faces more complicated challenges in its diplomatic strategies, policies and national security, it needs a top-level organization that will centralize power and coordinate related organizations.
Shi, also a member of the Counselors' Office of the State Council, an organization that provides consultation, believes the new committee will help raise the efficiency of national security strategies and policies.
Effective coordination
Li Wei, Director of the Anti-Terror Studies Center of the China Institutes of Contemporary International Relations, told Beijing Youth Daily that the installment of a national security committee is a significant move to improve China's national security system.
Li said that apart from the changing international situation, the formation of the committee is also based on the needs to deal with high-risk incidents, emergencies and crisis.
According to Li, as China's highest decision-making organization on national security affairs, the committee is expected to be led by the head of state, and will consist of officials from the ministries of foreign affairs, public security, transport, health and civil affairs, as well as military officers.
Xu Hui, a professor at Beijing-based National Defense University, told The Beijing News that the new committee would be either led by the head of state or another senior official. If it were the second, the committee would be composed of top leaders from central government departments with responsibilities related to national security and serve as a consultative organization for decision-makers.
"It would at least rank as the highest consultative organization, and would be different from a regular think tank," Xu said.
Hu Angang, Director of the Center for China Studies of Tsinghua University, said in an interview with the website of Global Times that almost all major countries—including the United States, Russia and Japan—have, or plan to establish, national security bodies. He added that as the country with the world's second largest economy and the highest foreign exchange reserves, China will no doubt face a number of national security challenges and needs an efficient and powerful organization to deal with them.
Hu also pointed out that the establishment of a national security committee would facilitate China's exchanges with other major countries as the committee becomes more able to communicate with its foreign counterparts.
Crisis management
For the time being, several organizations hold differing responsibilities related to national security in China, such as a central leading group for national security affairs and the Ministry of State Security.
The central leading group for national security affairs, which shares staff with a central leading group for foreign affairs, was founded in September 2000 and makes decisions on major issues involving foreign affairs and national security. The group is currently headed by President Xi, and its members include the vice president, a vice premier or state councilor for foreign affairs, as well as principal officials of ministries of foreign affairs, national defense, commerce, public security and state security. Representatives of the State Council offices of Taiwan, Hong Kong, Macao and overseas Chinese affairs and information, as well as military officers, are also part of the organization.