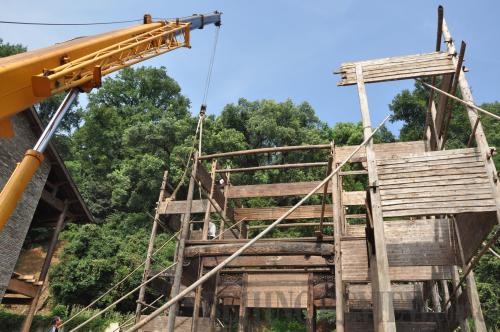 UNORTHODOX RELOCATION: An ancient wooden house is rebuilt in August 2012 at a tourism resort in Wuyuan County, Jiangxi Province, after being moved from a remote village where it was originally located (ZHENG QINGYUAN)
Architectural structures donated by Hong Kong movie star Jackie Chan to the Singapore University of Technology and Design were unveiled for the first time on September 6.
Chan's donations, dating back to the Ming (1368-1644) and Qing (1644-1911) dynasties, include a pavilion, an opera stage and two houses. Chan bought them in the 1990s in east China's Anhui Province, birthplace of the ancient Hui school of Chinese architecture.
The four structures were shipped to Singapore in 2010, where they will be restored and used as a "clubhouse" for faculty members and students, a stage for outdoor performances and a "resting place" on the university's campus by 2015.
When Chan first announced his donation via the Internet in April, he drew a torrent of criticism from Chinese netizens, who condemned the giving away of Chinese architectural treasures to a foreign country.
In an interview with state broadcaster China Central Television, Chan defended his decision, saying it was intended to promote international cultural exchange.
"We must display some of our works of art abroad so foreigners can know about our culture," Chan said. He added that the buildings were not unique, one-off national treasures like many had erroneously assumed.
According to Chan, he chose Singapore as the new home for his collection simply because they are technologically advanced when it comes to preserving and maintaining ancient buildings and they attach great importance to the preservation of ancient architecture. Chan revealed that some local governments in China had contacted him looking to accommodate his buildings, but he rejected their offers for fear that his fame would be misused to promote commercial projects that would be developed next to the restored buildings.
Chan's move also triggered discussions among historians and architects over the practice of dismantling old buildings and rebuilding them at new sites.
Many warn that buildings' cultural and historical value suffer after being removed from their original sites.
Ruan Yisan, an architectural professor at Shanghai-based Tongji University, has played an important role in Shanghai's protection of its Shikumen architectural style, which combines Western and Chinese elements of residential buildings and first appeared in the 1860s. He said that buildings are different from other antiques in that ancient architecture is only alive when it interacts with people instead of lying in pieces at a warehouse.
Business interests
With the value of antiques appreciating rapidly in China over the past few years, many wealthy individuals have purchased ancient buildings, primarily wood and stone parts with delicate carvings or beams of rare wood. These acquisitions are often left unused in warehouses, some wooden items rotting before the next buyer is found. After they are resold for profit, the more fragile antiques risk damage during long-distance transportation.
Zhu Junbo, Deputy Director of the Shanghai Press and Publication Administration, suggests that this kind of trade should be banned.
However, many dealers selling old buildings argue that such transactions actually help save the buildings from being tossed away like garbage. They said that the items donated by Chan would remain unnoticed in China while in Singapore they are being admired and treasured, which allows more foreigners to understand Chinese architectural aesthetics and its connection to the natural environment.
Many ancient residential buildings in China face the risk of demolition, especially in rural areas. Traditional buildings were constructed with bricks and wood, making them vulnerable to damage by fire, flood and termites. Usually they become unsafe after around 200 years after being built. In such situations, farmers often tear down their old houses to build a new steel-and-concrete one on the original site.
Zhao Wenlong, an antique furniture dealer in Shanghai, has been engaged in a decade-long project building a garden to accommodate wooden houses rebuilt from original materials.
Zhao, 57, built his Huizhen Garden from scratch on a piece of land that he bought in Shanghai's suburbs in 2000. The estate in Songjiang District is now home to about a dozen restored wooden houses dating back to the Ming Dynasty. Among them are masterpieces like the former residence of scholar Huang Yanpei (1878-1965) and former Vice President of China Rong Yiren (1916-2005).
These fine buildings were all dismantled at their original locations, transported to Songjiang, and painstakingly rebuilt from original materials.
What inspired Zhao to dedicate himself to protecting ancient buildings was an experience he had during one of his furniture collection trips many years ago in rural Anhui. In a remote village, he went to the site of a collapsed house that was more than 200 years old. All the wooden parts with carvings had been removed and sold to antique dealers. In the yard, Zhao saw several farmers cutting a 12-meter beam into pieces to make furniture.