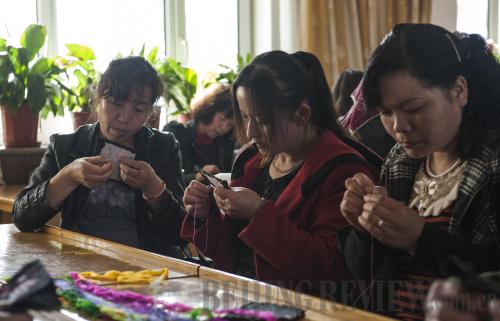 KNITTING FORTUNE: Women from Banfanggou Township in Urumqi County, Xinjiang Uygur Autonomous Region, learn embroidery in a vocational training class on March 26 (JIANG WENYAO)
In 2010, Xinjiang Uygur Autonomous Region in northwest China faced a formidable problem. About 75,000 college graduates were without jobs, 83 percent of them from ethnic minorities and 60 percent female. It was a difficult and pressing issue for the region.
According to a survey carried out by the National Bureau of Statistics Survey Office in Xinjiang during the first quarter of 2013, small business owners said that they considered professional skills and work experience most important when hiring. However, due to a lack of skilled laborers, most enterprises face a workforce shortage. With vacancies in key positions, some enterprises are experiencing reduced production.
At the same time, job seekers are complaining. "Every time we go to job fairs, many companies require two or three years of work experience. How can we gain work experience?" said Yan Ping, a student at the Media School of Urumqi Vocational University. "Before graduation we spent most of our time studying. We've received employment training from the university, but we don't have enough time to acquire work experience."
Hu Angang, head of the Institute of Contemporary China Studies at Tsinghua University, believes the reason companies have difficulty finding technical professionals is because college graduates are failing to adapt to changes in the job market.
Collaborative efforts
In a bid to solve Xinjiang's employment woes, the region's government launched a program in March 2011 to send college students to provinces and municipalities in central and east China for training in employment-related skills, policies and laws as well as internships.
Zhang Mingping, Deputy Director of the Organization Department of the Xinjiang Regional Committee of the Communist Party of China, said that in the two years since the program was launched, the region has sent 22,000 college students to 19 provinces and municipalities, on exchanges ranging from 18 months to two years.
Abdurehim Moydin is a resident of Kashgar in south Xinjiang. His son is participating in the government program. "I ask him to study hard in the hope that he can help contribute to our hometown when he comes back," Abdurehim said. He added that all the training and accommodation during his son's two-year exchange were free of charge. Every month his son receives a living allowance of 500 yuan ($82) in addition to other benefits.
Turgunjan Tursun, an associate researcher with the Institute of Sociology at the Xinjiang Regional Academy of Social Sciences, said, "Through such training programs, the government not only helps job seekers boost their competitiveness by obtaining more skills, but also creates a talent pool to advance the development of Xinjiang."
Genijan, 37, is from a village in Seman Town, Kashgar. He said that the local government has provided training on planting and husbandry for farmers to help them increase their income. To young people who hope to enter non-agricultural sectors, the government offers training in catering and industrial manufacturing.
Genijan took part in an agricultural program. Now, his family plants vegetables on their 0.67 hectares of land. Besides running the family farm, he also teaches the Uygur language at the village primary school. Every month, he and his wife can earn 6,000 yuan ($983). "Without all this training, the villagers could only do physical labor and their incomes would be very low," he said.
In addition to the government, local companies are making contributions.
Sany Heavy Industry Co. Ltd., China's largest construction gear manufacturer, started construction of the Sany Northwest Industrial Park in Urumqi, Xinjiang's regional capital city, in April 2011. At the beginning of 2012, the company signed cooperative agreements with Xinjiang University, Xinjiang Institute of Light Industry Technology and three other local universities with the intention of recruiting graduates.