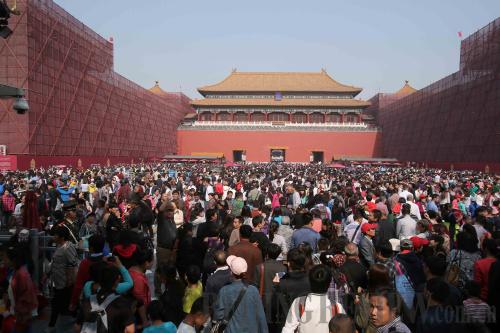 HOLIDAY HEAT: Crowds at the Palace Museum in Beijing, China's imperial palace of the Ming and Qing dynasties (1368-1911), on October 3 (CHEN XIAOGEN)
Before this year's Mid-Autumn Festival (September 19) and National Day holiday (October 1-7) had even started, the official holiday calendar has become a subject of complaint for one reason that made it stand out: The schedule was unusually complicated.
According to the holiday calendar that was announced by the General Office of the State Council, China's cabinet, at the end of 2012, the irregular schedule would start on September 16, when workplaces would open for three days and then close for three to celebrate the Mid-Autumn Festival. After this, people would return to work for six days straight followed by one day off. Then they return for another two days' work, followed by the seven-day National Day holiday. Finally they return to work for another five days, take one day off and then finally resume their normal work routine on October 13.
"This is almost the most confusing holiday calendar in history," one user commented on Sina Weibo, China's twitter-like microblogging service. "We have to check every morning whether we should be at work or not."
However, this is not the first time people have been confused by their work schedules during and around holidays.
The reasoning
In 2008, China decided to add two more traditional holidays to the national holiday schedule—the Dragon Boat Festival and the Mid-Autumn Festival. These traditional festivals follow the Chinese lunar calendar and as such they don't have a fixed date on the modern day Gregorian calendar.
Officially, China only allows one day for the Mid-Autumn Festival, often in late September or early October, and three days for the National Day holiday. However, in order to give people the chance to have more time to enjoy themselves, the government extends the holidays out to three days and seven days, respectively. As a result, people are required to work on weekends to make up for the extended absence from work. On some occasions, people may have to work for seven to nine days straight before or after the time off.
For example, the Mid-Autumn Festival fell on September 19 this year, which is a Thursday, so Thursday, Friday and Saturday were allocated as days off, with a return to work on Sunday. In 2012, the Mid-Autumn Festival fell one day before the National Day (October 1), allowing for the opportunity to enjoy an extended eight-day vacation at the expense of working nine days in a row before.
Before 2008, China had three weeklong vacations for May Day, National Day and Spring Festival, or Chinese Lunar New Year. This vacation arrangement started in 1999 with the aim of boosting consumer spending when Asia was suffering an economic setback.
The purpose of adding the extra traditional festivals to the holiday schedule in 2008 was honoring Chinese tradition, but it seems that the holidays have become little more than an opportunity for travel and consumption.
Cai Jiming, a professor at Tsinghua University, said, "Since the holidays have to occur on certain days according to the lunar calendar, weekends are reshuffled to be part of the holidays, and this disrupts workplace routines."
Months in advance of the holidays, discussion online gravitates toward how to make the most of the convoluted schedule coming up. This year, some suggested that if a person asked for leave for the two days of work after the six days off, then he or she could get 10 days in a row when the National Day holiday arrived—but only if his or her boss approved.
Long holidays
A survey made by China Youth Daily in February showed that 73.4 percent of the respondents are not satisfied with the holiday arrangement, complaining that it was "not balanced" and "not flexible." Among the 2,068 surveyed, 60.5 percent said that the "reshuffling" makes them feel more, rather than less, exhausted.
"Normally people need one or two days after the holidays to get back into a working mood. The fragmented holiday arrangements affect efficiency during the working days in-between," said Jiao Zhenguo, General Manager of the Zhiguan Enterprise Management Consulting Co. Ltd. in the southwestern metrocity of Chongqing.
Jiao suggested that it would be more effective to allow companies to make their own, more flexible, schedules.
"If companies are allowed to make their own holiday arrangements, I worry that my boss wouldn't be generous enough to give us a seven-day vacation," said Han Yujing, an employee at a private company in Beijing.