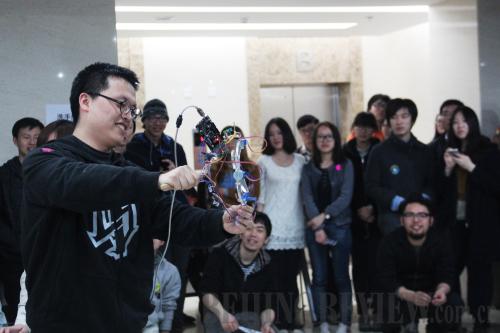 TECH GENIUS: Liu Yang, a do-it-yourselfer at Beijing's Makerspace, displays a smartphone steadicam he invented on April 14 (MA PING)
The name Wang Shenglin has recently become known as a creator in the whirling DIY scene taking root in Beijing's Zhongguancun, sometimes referred to as China's Silicon Valley.
Born in 1988, Wang graduated from Beijing-based Renmin University of China's Business School in 2011. Instead of finding a job related to his major, he started his own business with a group of tech enthusiasts, making digital gadgets.
The whole business started in a 20-square-meter room. "It was not intended to be a real business at the very beginning," Wang said. "It was just for fun. Some people go to the gym. Others go to nightclubs. We built a creative community for nerds."
Playing big
Every week, Wang, together with co-founder Xiao Wenpeng, a programmer and hardware enthusiast, held seminars with friends who shared the interests in technology, design and art. Together they made various toys by hand including a cube robot, a quad-copter, as well as their own 3D printer—a device that is capable of "printing" tangible objects from plans by melting and forming plastic thread.
"The idea of starting collectives such as this one is to encourage social innovation and develop an open-source hardware ecosystem. This can be done through building physical and online communities where people can learn, share and work on projects through interactive design," said Wang, who named the workshop Makerspace. Wang explained that the word "maker" refers to do-it-yourself enthusiasts who come to the workshop to make their own ideas into something tangible.
It's more like a frat house for young, modern scientists. "Some call us nerds or geeks," Wang said. "We have creative ideas and courage to put them into practice. They can be as simple as tie-dyed fabrics or as complicated as a 3D camera."
Neither Wang nor his partners initially expected economic returns from Makerspace until the 3D printer they developed found buyers and made some money. This gave them a positive sign—ideas cannot only be changed into practice, but also into money.
Unfortunately, the 3D printer is the exception amongst almost all the experiments they conducted at Makerspace. A successful product always requires a large number of prototypes and tests that cost money and time, but Makerspace is centered around the emerging "rapid prototyping" trend where the focus is on making small one-time batches of something that is not commercially feasible. Sometimes, several months of development and testing may still result in failure.
Therefore, Wang had to look for investors to keep the workshop running. Makerspace's turning point was in 2012 when it was awarded the title of Innovation Incubator by the Administrative Committee of the Zhongguancun Science Park, and moved to an office of about 200 square meters in the Zhongguancun International Digital Design Center in Haidian District.
The new larger space allows their sharing sessions and lectures to attract dozens or even hundreds of members to attend.
In May 2012, Makerspace held the Beijing Maker Carnival in conjunction with Beijing Design Week. The projects on display ranged from a pen that draws automatically, to a wig that plays music according to how hard the wearer shakes his or her head.
The workshop has collaborated with the Ullens Center for Contemporary Art since the beginning of 2013 by holding seminars there once a month, providing opportunities for more people to enjoy the DIY revolution.