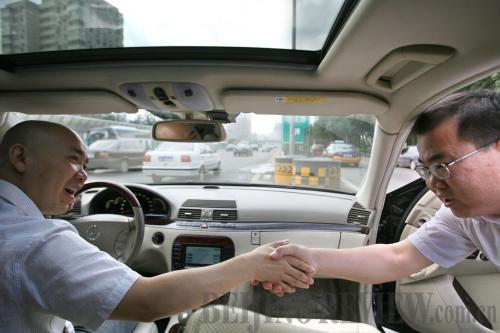 KIND OFFER: A passenger says goodbye to Wang Yong (left), a vocal carpooling advocate after taking a free ride with him in Beijing (CFP)
Huilongguan, a large residential area on Beijing's northern outskirts, is home to approximately 400,000 people, many of whom travel more than 12 km every day to work in the city's downtown area.
Morning commuters squeeze into buses already at capacity. Subway cars are so crowded that riders can barely turn around. And private car owners have to contend with traffic congestion on the Badaling Highway.
Wang Yong, founder of the Shunfengche Charity Foundation (Shunfeng means "free ride" in Chinese), decided to change the situation by introducing carpooling to the community.
The foundation piloted carpooling in the Huilongguan area from June 17 to July 16. Now the program has been extended until September 20. Private car owners who provide rides to more than two passengers during the 7-9 a.m. rush hour period get their 5-yuan ($0.82) highway toll paid by the foundation.
Volunteers have been recruited to promote the program to car owners. They were also stationed at Huilongguan and nearby Xisanqi entrances to the Badaling Highway to issue toll vouchers for those carrying at least two passengers. Ten huge billboards have been erected along the highway to advertise the campaign.
Good intentions
"We launched the program to conserve energy, alleviate traffic pressure and enhance trust between people," said Wang Chenfei, a program officer.
Before the program started, staff of the Shunfengche Foundation spent one week studying car ridership in the Huilongguan area during the morning rush hours. Their data show that from 7-9 a.m. every day, 85 percent of the cars driving out of the area had only the driver on board, about 13-14 percent of cars carried two persons, and only about 1-2 percent of the cars carried three or more persons.
Beijing is home to more than 5 million private cars, and every day 1 million of them are kept off the road by the city's policy to restrict car use based on the last digit of cars' plate numbers. The foundation estimated that carpooling can take an additional 400,000 cars off the road, thus reducing road traffic by 10-25 percent.
Given that a car consumes an average of 8.06 liters of gasoline per 100 km, and assuming that every car travels 20 km daily, the foundation calculated that carpooling can reduce gasoline consumption in Beijing by 464 tons on a daily basis. In the meantime, a significant amount of air pollution will be cut accordingly.
In addition to environmental concerns, Wang Yong believes that giving people rides can foster goodwill between people. He said that he was inspired to initiate the carpooling program by a man he knew since childhood who happily gave fellow villagers a lift into town. The man was highly respected for doing so.
Wang Yong himself has been offering rides to others since 1998. In the beginning, his offers were often turned down. "People usually responded with indifference, suspicion and even hostility," he said.
After the media reported his story, Wang Yong was gradually accepted by others as a kind-hearted man offering free rides in his Mercedes-Benz. Over the past 15 years, he has given rides to more than 10,000 people, Wang Yong said.
Before setting up the Shunfengche Foundation in January to promote carpooling, Wang Yong already launched a well-known carpooling initiative in 2011 during the Chinese New Year peak travel season, together with celebrities such as Deng Fei, initiator of a popular "free lunch" campaign to improve childhood nutrition.
That year, the carpooling initiative attracted 18,000 people who either needed a ride (usually long-distance) back to their hometowns for family reunions during the traditional festival or who would like to give rides to others. Eventually, 500 drivers gave long-distance rides to more than 1,000 passengers.