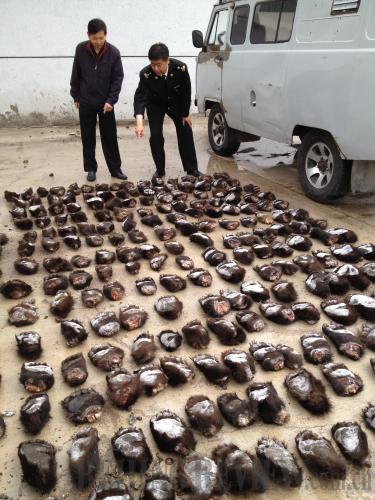 CRIME CAPTURED: Customs officers in Manzhouli City, Inner Mongolia Autonomous Region, count the number of bear paws smuggled from Russia on June 15 (CFP)
Fangchenggang in south China's Guangxi Zhuang Autonomous Region is a nexus for the illegal wildlife trade. An important gateway to Southeast Asia, the city borders Viet Nam and is not far from economically prosperous Guangdong Province.
On June 15, border police seized 160 boxes of reptiles, most of which were still alive. The shipment weighed 6.5 tons, including cobras, a protected species in China.
Police suspected that the reptiles were smuggled into China, as the truck driver could not produce required documents. The driver said that he was hired to transport the animals to Guangzhou, capital of Guangdong, where residents are known to have a voracious appetite for delicacies of a wide range of wildlife.
Smuggling of a similar scale was detected in the city on May 19, when border police seized 89 boxes of snakes and 24 boxes of tortoises.
Police handed the animals over to local forestry authorities, who said that they would release healthy animals into the wild, and transfer others to local animal rescue centers.
Enhanced protection
Wildlife is the world's fourth most smuggled item, after drugs, counterfeit goods and human beings, said Wan Ziming, Director of Enforcement and Training at the Endangered Species Import and Export Management Office under China's State Forestry Administration.
He said the global illegal trade of plants and animals, as well as their parts and derivatives, are estimated to be worth $7.8 billion to $10 billion per year.
"Illegal trade in wildlife is a transnational crime that can only be effectively controlled through joint efforts of origin, transit, and destination countries," said Wan.
China is a major destination country for ivory, rhino horns, pangolin scales, and tiger and leopard products. In China, ivory has traditionally been carved to produce exquisite art pieces. Rhino horns, pangolin scales and tiger bones are prized ingredients in traditional Chinese medicine. Leopard furs are treasured for their beautiful patterns.
On May 22, customs officers in Manzhouli City, north China's Inner Mongolia Autonomous Region, confiscated 213 bear paws smuggled by two Russian men. The bear paws were concealed in the tires of an old van.
Yang Xu, an officer at the Manzhouli Customs, said that during the inspection, officers noticed the vehicle's driver was nervous and kept glancing at his watch. Customs officers kicked the tires and found they were unusually heavy. They x-rayed the vehicle and discovered the hidden paws.
Bears are listed by the Chinese Government as a protected species. Poaching is strictly prohibited and comes with harsh penalties.
The seized paws were estimated to be worth about 2.8 million yuan ($460,000). In China, bear paws are eaten as a delicacy with medicinal value. Bear paws smuggled into China are actively traded in the underground market, which will be sold 20 times as much as their value in Russia, said customs officers. Two suspects were arrested.
In April, Beijing police uncovered 14 illegal wildlife trafficking cases during a crackdown, seizing 64 animals and thousands of related products, according to the State Forestry Administration.