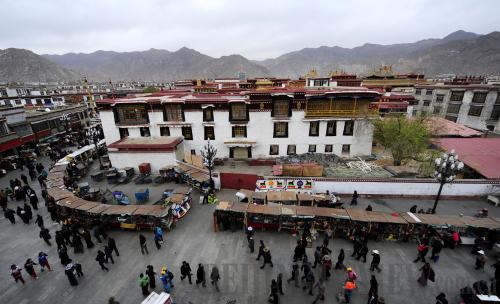 SCENE OF THE PAST: Vendor stalls surround Jokhang Monastery in Lhasa on April 7, 2011. Local officials said commercial functions would be reduced by a project to preserve the area for pilgrims and tourists (JIANG HONGJING)
In the capital of Tibet Autonomous Region, there is a saying, "If you have not visited Barkhor, you have not really come to Lhasa."
For centuries, pilgrims have walked along the circular path enveloping Jokhang Monastery, prostrating and spinning prayer wheels.
The UN Educational, Scientific and Cultural Organization designated Jokhang as a World Heritage Site as an extension of the Historic Ensemble of the Potala Palace in 2000.
Urban neighborhoods bustling with businesses, teeming with tourists and packed with pilgrims have sprung up around Barkhor, with 80,000 permanent residents living in the 1.33-square-km area.
Infrastructure is historically poor in the ancient district. Roads are narrow and congested, and webs of power lines hang over the streets. Drainage pipes are damaged or clogged.
"The living environment was not as good as that of modern apartments. Most of my neighbors have moved into new residential districts, and the old houses on the street are rented by people from outside Lhasa who seek jobs or do business," said Barkhor resident Zholma Lhamo.
The municipal government budgeted approximately 1.5 billion yuan ($245 million) for the project and announced it was less than a month from completion on June 9.
The project is the third of its kind since 1951 and the largest in scale, said 76-year-old Qamba Soinam, a native of Lhasa's old city.
Qi Zhala, Secretary of the Lhasa Municipal Committee of the Communist Party of China, said the project will preserve Barkhor Street as a residential area and destination for pilgrims and tourists, while downplaying its commercial functions.
According to a survey conducted by the city's government, 96 percent of local residents favor the project, while 91 percent of vendors understand an ordinance calling for temporary relocation of their stalls.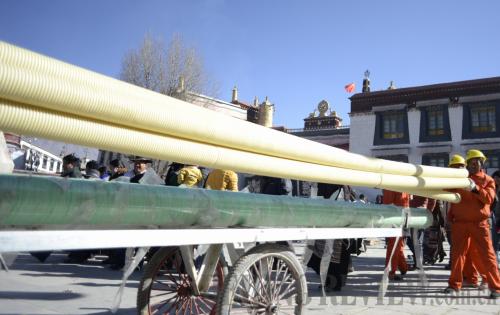 WORK UNDERWAY: Workers transport pipelines on Barkhor Street on January 16 (XINHUA)
Better infrastructure
The conservation project primarily improves the basic infrastructure in the old city of Lhasa.
Parts of the old city lacked underground drainage, and existing drain pipes were inadequately connected, making the streets above prone to flooding. New and upgraded pipelines are better connected to facilitate water flow.
New fire hydrants have been installed, and subterranean cables replace tangled overhead power lines whose aging circuits might have once presented a fire hazard.
"Now with power lines buried under ground, safety is guaranteed," said Qamba Soinam.
The project also supplies centralized heating and natural gas to residents. Heating in the old city is mainly fueled by electricity and supplemented with natural gas.
After the completion of the project, an electricity meter will be installed in every household to stabilize voltage.
Additionally, unauthorized structures posing fire hazards or hampering preservation of historical buildings and cultural relics are slated for demolition.
New buildings along the streets must be renovated to preserve the old city's unique traditional appearance, according to the conservation project plan. Street signs, tourist guide maps and building numbers will also be standardized while street lamps are upgraded to complement ancient architecture.