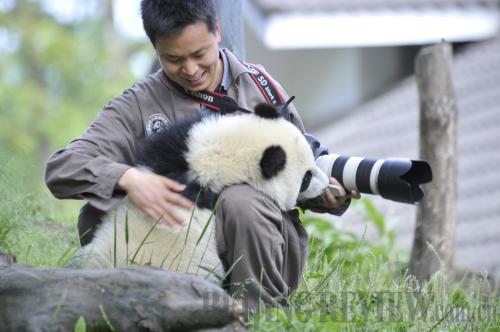 CUTE BABY: A panda cub plays with its feeder on April 24 (SHI GANG)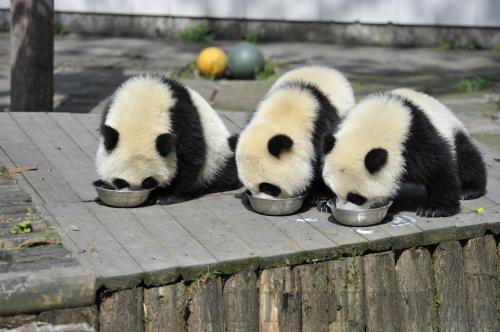 GOOD TASTE: Panda cubs drink milk before dinner on April 24 (SHI GANG)
For more pictures click here
Panda cubs are enjoying the sunshine, lying on their bellies on trunks of trees with legs swaying back and forth at a "kindergarten" in the Bifengxia Base of the China Conservation and Research Center for Giant Pandas (CCRCGP) in Bifengxia Township, Ya'an City, southwest China's Sichuan Province, mere days after a 7.0-magnitude earthquake struck the city on April 20.
Panda feeders returned to work immediately upon hearing of the earthquake to check on the cubs, said Heng Yi, head of the Public Relations Department of the CCRCGP. All 61 pandas, including six cubs, were confirmed to be in good health.
Compared to the Wenchuan earthquake that occurred on May 12, 2008, the impact on the pandas' habitat from the latest quake in Ya'an was much less severe, said Heng.
The CCRCGP's Wolong panda reserve was severely damaged by the 8.0-magnitude Wenchuan earthquake, after which staff members shared their own food supply with the pandas until May 17. Sixty pandas were later transferred 300 km away to the Bifengxia Base.
(Reporting from Lushan)
Email us at: lifangfang@bjreview.com