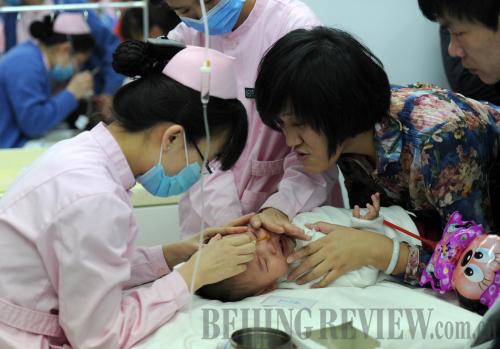 SMALL VICTIMS: A baby receives treatment for respiratory complications in Beijing Children's Hospital on January 13 (LUO XIAOGUANG)
According to data from the country's auto industry, China remained the world's largest producer and market for automobiles for the fourth consecutive year in 2012, with auto sales at 19.31 million units and production at 19.27 million units.
Carbon monoxide, nitric oxide, nitrogen dioxide and other pollutants emitted by motor vehicles are among the major contributors to the air pollution problems like smog and acid rain that frequently occur in some Chinese cities.
Beijing activated for the first time its emergency response program for hazardous air pollution on January 13. The program stipulates measures based on the degree of pollution.
Outdoor sports activities for primary and middle schools were ordered to halt in areas worst hit by pollution. Construction was suspended at 28 sites and 54 businesses reduced their emissions by 30 percent by cutting production, according to the Beijing Municipal Environmental Protection Bureau. It added that 30 percent of government vehicles in the city had been ordered to stay off the road in accordance with the program.
Meanwhile, inspection teams were dispatched to 14 districts and counties to oversee the pollution-reduction measures.
"More people should choose public transport. Drivers should cut their engines after parking," Zhu said. "We should draw a lesson from such serious, lasting pollution."
But Zhu warned that no obvious improvement could be felt after one or two measures due to the accumulated pollutants in such large-scale smoggy weather.
"The emergency response plan for hazardous air pollution, which Beijing promulgated at the end of 2012, must be implemented strictly and in a timely way," Zhu said. "If the implementation is too late, the effects would be weakened."
"Adjusting industrial and energy structures is a must," said Wang Jinnan, chief engineer with the Chinese Academy for Environmental Planning. "We need to realize the long and complicated process of PM2.5 treatment."
Ma Jun, Director of the Beijing-based Institute of Public and Environmental Affairs, said that factories in neighboring cities have also affected the city's air quality. Ma called on municipalities, provinces and autonomous regions in north China, including Beijing, Tianjin, Hebei, Shanxi, Henan, Shandong, Inner Mongolia and Liaoning, to work together to come up with a joint method to reduce pollution.
In response to the recent widespread smog and haze, these regions have already coordinated their anti-pollution efforts. For example, In the city of Jinan in Shandong, the local government on January 15 cut the number of both government and private vehicles on the road in half according to their license plate numbers, allowing even-numbered license plate owners to drive on some days and odd-number drivers to drive on others. The measure will remain in effect until further notice.
China has invested heavily in reducing polluting emissions in recent years. It pledged in its 12th Five-Year Plan (2011-15) to cut energy consumption per 10,000 yuan ($1,610) of the GDP by 16 percent while slashing carbon emissions by 17 percent.
Tao Detian, a spokesman for the Ministry of Environmental Protection, revealed that China will take effective measures to limit the total amount of nitrogen oxides emitted by vehicles and intensify supervision over the production, use and scrapping of motor cars. The ministry will make more efforts to step up urban public transport development and promote the use of clean energy to cut vehicle exhaust fumes, which is the main factor contributing to the smog in cities.
Email us at: yuanyuan@bjreview.com