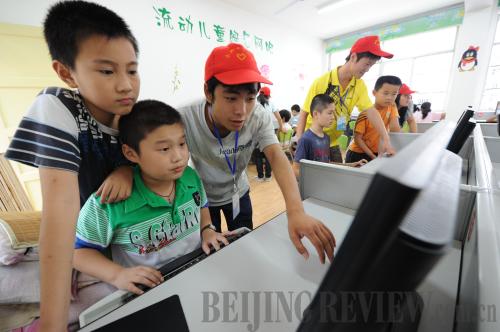 HEALTHY WEB SURFING: Volunteers guide children to surf the Web in an Internet cafe in Hefei, east China's Anhui Province, on July 19, 2011 (LI JIAN)
Helping young people fight their obsession with the Internet is the job of Liu Min, a psychological counselor for teenage Internet addicts at the Hongkai Education and Training School in Jinan, east China's Shandong Province.
One of the teenagers that Liu has counseled is a 16-year-old boy who goes by the pseudonym Hao, whose addiction to the Internet forced him to drop out of school. His parents sent him to the school to get treated for his addiction after he ran away from home several times.
As more and more young people have access to the Internet, many are becoming hooked. Among China's urban youth aged 6 to 29, 14.1 percent, or 24.04 million, were addicted to the Internet, according to a report released by the China Youth Association for Network Development, a non-profit organization, in February 2010.
Assuming the incidence of Internet addiction among rural youth to be the same as their urban peers, the report estimated that there were 33.29 million young Internet addicts in China.
Internet addiction is believed to be associated with delinquent behavior such as poor academic performance, truancy and theft. In 2009, a 17-year-old Beijing boy killed his grandmother and seriously injured his grandfather when they caught him stealing money to pay for Internet access at an Internet café.
The China Youth Association for Network Development released a report in 2005 revealing that nearly 14 percent of adolescents were at risk of Internet addiction. In response, the government launched a nationwide campaign in 2006 to tackle Internet addiction and set up charitable psychological counseling agencies.
So far, such agencies are found in 83 cities, where full-time or part-time therapists provide free psychological counseling and other services to young persons, said Zhang Yunxiang, a full-time counselor in Wuhan, central China's Hubei Province.
In addition, a number of organizations offering treatment for Internet addiction have sprung up. Many apprehensive parents have turned to these facilities to wean their children from the Internet, although so far the Ministry of Health does not recognize unhealthy Internet use as an addiction disorder.
To bring therapists up to standard, the Ministry of Human Resources and Social Security began to license psychological counselors for teenage Internet addicts in 2010. Currently, 1,567 people have been certified, according to the Beijing Morning Post.
When Hao first came into Liu's office, he sat silently, with his head lowered. Liu greeted him with a smile and asked him about the Internet games that he liked to play. After talking about games for a while, Hao became somewhat relaxed and more talkative.
Liu then took out a paper and pen. After drawing a coordinate axis on it, she asked Hao to create a chart with her. "Let the horizontal axis be your age and the vertical axis your happiness level. Recall your happy and unhappy times in the past 16 years, and mark your happiness level over these years on the chart," Liu said.
Hao did. The chart showed that Hao's happiness level was all above 80 percent before he was 12 years old but dropped into the negatives after that. Liu then asked Hao to describe his happy and unhappy memories.
Hao said that before 12 years old, he lived a pleasant and carefree life with his grandfather. Every day, the grandfather took Hao around town on the backseat of his bicycle. Hao was never pressed to learn. After turning 12, Hao was sent to live with his strict parents and he became sullen.
The chart showed that Hao was the least happy when he was 14 years old. When asked why, he said he entered middle school that year, and his mother transferred him to a new school without asking his opinion first. After finding that he performed poorly in the new school, his mother transferred him again without seeking his opinion.
Hao said that he did not like to change schools and leave his friends behind. "My mother is always like that, never asking about my feelings. From then on, I began to dislike her and even hate her," Hao said.
He said that his parents did not understand him and seldom chatted with him. Whenever he did not do well in exams, they scolded him.