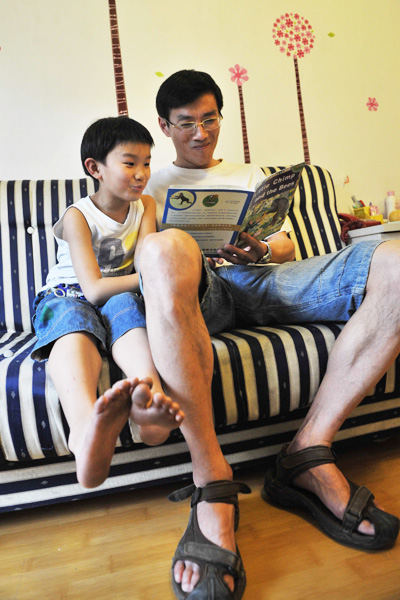 FATHER AND TEACHER: Zhang Qiaofeng teaches his son English at home (LI WEN)
Zhang Hongwu, a 7-year-old boy in Beijing, will take on a new responsibility soon. As an assistant teacher at his father's school, he will help correct the English pronunciation of his classmates in the new semester starting on September 9.
The small school, named The Loong Academy, will admit a maximum of six students publicly. Before that, Zhang's father, Zhang Qiaofeng, spent one year teaching his son full-time at home. "It proves that my teaching method works well and I have confidence it will work for other children as well," Zhang said.
Zhang made the decision of teaching his son at home in September 2011, when he noticed his son looked less happy than before after just three weeks in school.
"I don't understand if first-grade primary school students learn only two thin textbooks for the whole semester, how can they have piles of homework to deal with everyday? It is a waste of time," Zhang said.
Zhang then decided to withdraw his son from the primary school and teach him by himself. As a graduate from China's most prestigious Peking University, Zhang said he had confidence to be a qualified teacher. He gave up his job and a 300,000-yuan yearly salary. "I don't regret that," Zhang said. "If I regret anything, I think I should have started teaching my son at home earlier."
Regarding the future of his son, Zhang is very optimistic. "Now, we have more choices for the future. My wife and I prefer to send him overseas for higher education, so it doesn't really matter whether we follow the curricula defined by education authorities."
Zhang's confidence is based on quite a few successful examples. In June 2011, news spread that Chen Jiedi, a 17-year-old girl from Chengdu, capital of southwest China's Sichuan Province, got offers from quite a few famous higher-learning institutions in the United States, including New York University and the University of Southern California. However, this girl never attended primary or middle school.
"She learnt very fast but the teaching programs in public schools proceeded slowly," said Chen's mother Wang Jun, who revealed that Chen could finish learning a textbook within 20 days. "I thought she could finish all the primary school lessons within one year and finish high school lessons in another three years."
Wang, after discussing with her husband, started to teach their daughter at home. Chen, just as her mother planned, finished primary school lessons at age 8 and high school lessons at 11. Then she was sent to Chengdu Meishi International School for another six years to better prepare to apply to universities in the United States.
"There is always a misunderstanding that homeschooled children might have difficulties in communicating with other people," Wang said. "This is absolutely wrong. Even though my daughter didn't go to school, we took her to travel around and take part in social activities. After she went to the international school, she had no difficulties at all to communicate with teachers and classmates."
Zhang echoed this opinion. "Students in public schools also have difficulties in communication. They are taught to focus on nothing but learning. I don't think it is a healthy communication environment at all," he said.
Chen has already spent one year at the University of Southern California and earned As in all courses. "She is very happy at the university," Wang said. "I feel happy as well to choose special education for her."
Zheng Yuanjie, a famous children's book writer, is regarded as a pioneer in homeschooling in China. In 1990, after discussion with his son Zheng Yaqi, Zheng started to compile his own textbooks and educate his son at home.
"Schools are horrible," Zheng said. "A lot of teachers care for nothing but urging the students to get high marks in the exams. Besides, there are normally more than 40 students in one class. They use the same way to teach everybody. It is absurd."
Zheng then kept his son at home and let him play any way he wanted. The textbooks he compiled for his son are written as fairy tales and the content has nothing to do with the textbooks. "I think it is more important to teach kids how to protect themselves in the society and not break the laws, so I checked the crimes enumerated in the law and made up a fairy tale for every crime, telling my son not to do those evil things."
Now, Zheng Yaqi, 29, has founded a publishing company and owns a photography studio.
The reason for Tang Juan, a senior executive of a large state-owned enterprise in Beijing, to drag her daughter out of school is somewhat similar to Zheng's. Tang's daughter Wenwen studied in a top primary school, which Tang is very proud of as its admission process is very competitive. But Tang gradually found the parents of the other students took turns organizing parties at luxurious restaurants where they would hold big banquets and give pricy gifts such as iPhones or iPads to the other kids, helping their own children to build good relationships in the school.