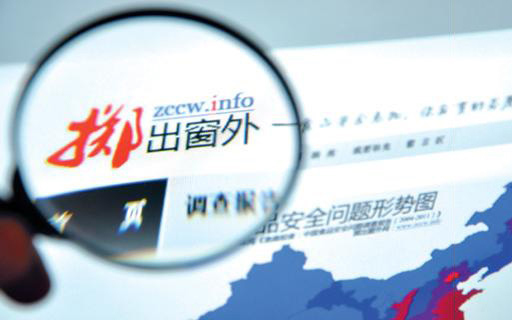 (CFP)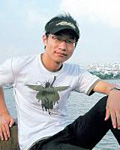 A THINKER AND DOER: Wu Heng at the campus of Fudan University (YANG HONGXUN)

Wu Heng, a 27-year-old postgraduate student in historical geography at Fudan University in Shanghai, never expected the food safety informationsharing website he created a year ago would go viral as it did in May. On May 11 alone the site received 404,000 visits, compared with a daily average of 10,000 at its inception.

The website contains a 10-million-characterlong paper authored by Wu on China's food safety situation and a map of China with regions in different colors to indicate food safety hazard levels between 2004 and 2011.

The title of the paper is "Exchanging Feces to Eat: Food Safety Situation of China (2004-11)." According to Wu, "exchanging feces to eat" indicates that everybody living in a corrupt food supply chain, including suppliers of problematic food themselves, would become the victim of someone else's wrongdoing.

After a major scandal related to the use of waste leather scraps to produce the gelatin used for drug capsules was exposed by the media in early April, Wu wrote on his website that the paper he wrote one year ago was still relevant since there had been almost no improvement in systematic monitoring.

"An author should take his or her article' lasting relevance as the highest compliment while my feelings are deep regret and helplessness," Wu said.

Wu's creation, Zhi Chu Chuang Wai (www.zccw.info), which means "throw it out of the window," was inspired by his own suspicious food poisoning experience. Wu used to order braised beef on rice as a takeaway meal almost every day at the low price of less than 10 yuan ($1.58) per helping from an eatery next to his university. In April 2011 Wu, who repeatedly brushed off his roommate's concerns about the quality of the beef, was startled to read a news report about the widespread use of a potentially harmful additive that lends pork the taste and appearance of beef. It was only then that Wu decided to launch his own campaign to heighten public awareness of problematic foods.

The name of Wu's website came from the late U.S. President Theodore Roosevelt's reaction to problematic food. After reading a detailed portrayal of the unsanitary conditions and labor exploitation in Chicago's meat-packing industry in Upton Sinclair's book The Jungle, the president reportedly threw his breakfast sausage out the window. Roosevelt later invited the author to the White House and launched an investigation into the appalling conditions described. Legislation followed.

In two months, Wu and 34 volunteers he recruited through the Internet combed the Web to find all reports on problematic foods from reliable sources since 2004 and set up a database for the website. It went online last June.

Wu said that within 17 days he and the volunteers read through more than 17,000 news reports of food safety scandals and found problems everywhere.

At the end of the research, more than 2,800 entries were put into the database, which can be searched by using the locations of the incidents or types of hazards, such as expiry dates, illegal additives, unlicensed producers, poor hygiene, and poor packaging quality.

Adopting an approach similar to Wikipedia.org, Wu's website allows visitors to add new links to food safety news to its database without registration. The website's volunteers will verify all contributions later and can only delete irrelevant, unreliable or repeated entries.

Learning from the Darwin Awards, a tongue-in-cheek honor created to recognize individuals who contribute to human evolution by putting themselves unnecessarily in life-threatening situations, Wu set up a Darwin Award of Chinese Foods for the worst food scandal on the homepage of his website. Website visitors can cast a vote from 10 short-listed stories and a cash prize of 1.4 yuan ($0.22) is presented to the first reporter of a food scandal. The token 1.4 yuan prize will be awarded because 1.4 sounds like the characters for "dying together" in Mandarin Chinese.