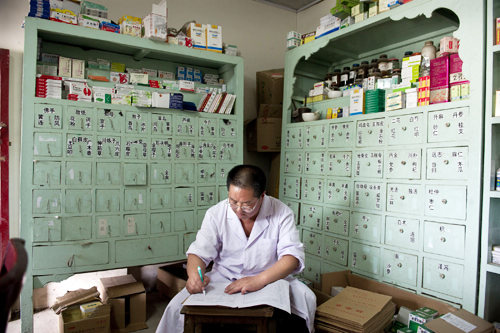 GRASSROOTS SERVICE: A doctor examines villagers' health records at a clinic in Huayuan Village in Jinzhai County, Anhui Province, on September 3, 2011 (GUO CHEN)
China's basic medical insurance program covered more than 95 percent of its population, or about 1.28 billion, by the end of 2011, said Minister of Health Chen Zhu.
"Coverage in rural areas reached 97 percent, exceeding the 89 percent reported for urban areas," Chen said at a national health work conference on January 5-6. In 2003, 55 percent of urban citizens and 21 percent of rural residents were covered.
In recent years, China has invested heavily in health care and community-level basic medical services. In 2010, spending on health care accounted for 28.6 percent of the national fiscal expenditure, Chen said.
The percentage of total medical costs paid by patients decreased from 60 percent in 2001 to 35.5 percent in 2010, with the government budget and social funds covering the rest.
At present, China's basic medical insurance is, for the most part, comprised of three separate arrangements: the new rural cooperative medical system, the basic medical insurance scheme for urban residents and the basic medical insurance scheme for urban employees.
For more than 30 years after the founding of the People's Republic of China in 1949, those living in urban areas were entitled to nearly free medical services.
However, when China began its economic restructuring in the early 1980s, the old system was dismantled as the country attempted to switch to a market-oriented health care system.
But soaring medical bills plunged many into poverty and made medical services less affordable to ordinary citizens.
The Chinese Government admitted in 2005 that the previous reform was "basically unsuccessful," and started a new round of reform in 2009.
In April 2009, China unveiled a blueprint for its health care system reform over the next decade.
The plan's eventual goal is to establish a universal health care system for the country by 2020, giving people access to affordable public hospitals, clinics and other health care facilities as well as extensive coverage from public medical insurance.
"The core principle of the reform is to provide all citizens with basic health care as a public service, and to make the health care system more public-oriented," said Liu Xinming, an official with the Department of Policies and Regulations of the Ministry of Health (MOH).
The Chinese Government also established a more detailed three-year plan. It committed to investing 850 billion yuan ($124.45 billion) to promote the accessibility, equity and quality of health care services available to the public by the end of 2011. Major reform measures included expanding the health care insurance umbrella, reforming public hospital, establishing an essential drug system and improving the quality of the healthcare provided.
"Lack of government investment has long been the major cause of China's ailing health care system. The latest reform has changed the situation," said Xu Guangjian, Deputy Dean of the School of Public Administration at the Renmin University of China.
According to Vice Minister of Finance Wang Jun, the country invested 1.13 trillion yuan ($179 billion) in improving the health care system in 2009-11, 280 billion yuan ($44 billion) more than the original budget. It also raised the proportion of health care spending to the national fiscal expenditure to 5.35 percent in 2011, up from 4.57 percent in 2008.
In the past three years China has set up diversified medical insurance systems for urban employees, urban residents who do not work or are self-employed, and rural residents. Meanwhile, annual medical treatment allowances for both urban and rural residents rose to 200 yuan ($31.69) per capita in 2011 from the previous 120 yuan ($19.01).
Rural health care services have been upgraded over the past years as the government allocated more than 40 billion yuan ($6.34 billion) to support the construction of medical institutions in the countryside.