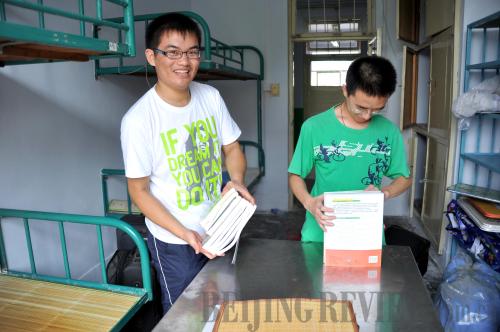 A LUCKY KID: Wang Mingjiang (left), a sophomore at Shandong Agricultural University from a village in Linqu County in Shandong Province, cleans his dormitory with his roommate on August 26 (XU SUHUI)
As a sophomore majoring in English at the Department of Foreign Languages and Literature at Tsinghua University, Zhao Jun has learned the true meaning of "spiritual solitude" over the past year.
"Although I would call myself outgoing and sociable, I find I just don't have much in common with my classmates," said the 21-year-old student with an air of dissatisfaction.
What sets Zhao apart from his classmates is the fact that he is from a small village in central China's Henan Province, while most of his classmates are all from major cities.
"They have totally different life and educational experiences, so I always feel somewhat isolated, which can be demoralizing," Zhao said.
Only five out of the 36 students in Zhou's class came from rural areas.
This is reflective of a broader trend with rural students being massively underrepresented in China's universities. While they have always struggled to secure places at top universities, in recent years the situation for rural students has actually deteriorated. The proportion of rural students at Tsinghua University, which ranked 35th on The Times Higher Education magazine's list of world's top 100 universities in 2011, has dropped to a historical low point. According to a study conducted by Yang Dongping, a professor at the Beijing Institute of Technology, only 17 percent of freshmen at Tsinghua University in 2010 came from rural areas, even though they comprised 62 percent of those registered to take the national college entrance examination that year.
This year, less than 15 percent of the university's 3,349 newly enrolled students had their education in rural schools, according to the Admissions Office of Tsinghua University.
According to Jin Jun, a lecturer at the School of Humanities and Social Science of Tsinghua University, a typical student at Tsinghua University hails from a city, has parents who are teachers or government employees, and travels overseas with his or her parents at least once a year.
The situation at Tsinghua is comparable to that at China's other major universities. The ratio of rural students at Peking University, which was rated 43rd on The Times Higher Education magazine's list, has dropped to around 10 percent over the last decade from more than 30 percent between 1978 and 1998, according to a study by Liu Yunshan, Vice President of the university's Graduate School of Education.
Even at China Agricultural University, which has traditionally had a high percentage of rural students, fewer than 30 percent of students are now from rural areas.
"The decrease is alarming as the proportion of rural students in leading universities has dropped to below 20 percent," said Xiong Bingqi, Deputy Director of the 21st Century Education Research Institute, a private non-profit education policy research body.