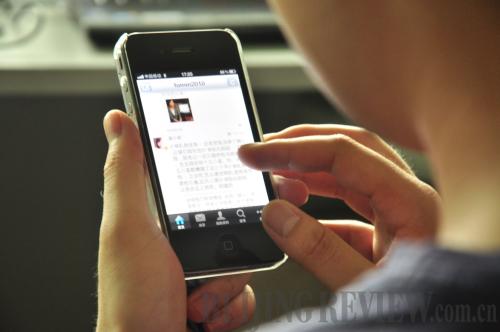 NEWS IN HAND: A young man browses micro-blogs on his mobile phone on June 3. False information has become a problem for today's micro-blog users (ZHANG YIZHI)
As people across China mourned the tragic loss of life in the high-speed train crash on July 23 near Wenzhou, Zhejiang Province, Internet forums were awash with comments, expressing sadness and anger at the accident. But as millions of messages were posted and reposted, ordinary Internet users began to struggle to discern which pieces of information were accurate and which were misleading.
A netizen self-proclaimed Guo Yao posted a piece of information on Sina Weibo, a twitter-like micro-blog service, on July 29, claiming her 100-day-old baby, Wang Yixuan, died in the accident but was not on the list of victims.
Micro-blog users including Wu Danhong, an associate professor at the China University of Political Science and Law, examined the pictures Guo had posted, and found they weren't authentic. It has been confirmed the blogger didn't actually lose her baby in the Wenzhou accident.
In this digital age, misleading information spreads at extraordinary speed over the Internet. Micro-blogging platforms in particular, allow information and disinformation to be disseminated at an unprecedented pace.
"Facing the challenge of disinformation, Internet users, the government and site operators are wondering how to manage the micro-blogosphere," said Dou Hanzhang, a Beijing-based researcher who helped form an anti-misinformation group on Sina Weibo earlier this year.
A rising power
By June this year, the number of micro-blog users in China stood at 195 million, accounting for 40 percent of all Internet users in the country.
An annual report on China's Internet users' opinions, released by the Communication University of China in March, said the micro-blog had become the public's third most-used source of information.
"China has become much more open and much more transparent. People have a lot of freedom to express themselves and micro-blogging can bring that freedom to the next level," said Charles Chao, CEO of Sina.com. His company is a leading news portal in China and runs Sina Weibo.
Unlike traditional media channels, micro-blogs allow anyone with an Internet connection to effectively publish whatever they want online. Users can share words, photos and videos with other users and news spreads through the network at lightening speed.
While a micro-blog's ability to distribute information makes it a useful tool for those following news, the ease of uploading information onto the site also makes it ripe for rumor-mongering.
"Micro-blog misinformation is common and hard to trace. It's been argued micro-blogs are self-managing, and false misinformation will naturally disappear. But this is a very slow process and not an inevitable or reliable one. Hysterical misinformation often do real damage," said Wu at the China University of Political Science and Law.
As China's most popular micro-blog site, Sina Weibo claims it has 50 million registered users, including a large number of celebrities and prominent scholars. These users reportedly write more than 25 million postings a day.
In order to address the misinformation problem, Sina Weibo established a specialized team last November to monitor the accuracy of the information posted by its users.
"With the ever increasing number of micro-blog users and the explosion of available information, it's difficult for Web users to distinguish postings that are correct from those that are not, so the company decided to set up a group to check postings," said team leader Tan Chao.
The misinformation-checking team consists of seven members. Many in the group are experienced investigators. "Some are former journalists, some have good foreign language skills, and others have good research skills," said Tan, who is tasked with moderating Sina Weibo's avalanche of postings every day.
The team tends to monitor micro-blog postings that make outlandish claims. Tan insists, however, his team is not in charge of censoring postings but rather acts like a moderator, only deleting postings that are proven to be false. Sina Weibo's policy is to thoroughly investigate suspect micro-blog postings before taking any action.
"We monitor questionable postings that get a lot of reposts over a short period of time," Tan said.