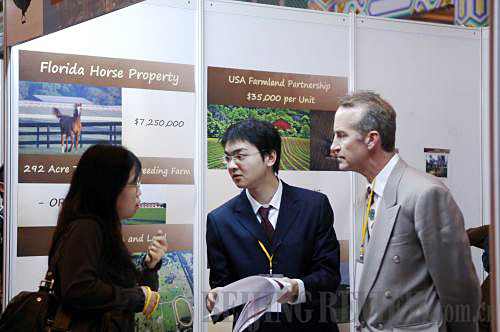 CHASING THE AMERICAN DREAM: A woman discusses studying in the United States at a Sino-U.S. real estate fair held in Beijing in April 2009, which targeted Chinese students studying in the United States and offered assistance getting a U.S. "green card" (IC)
There has developed a new wave of emigration from China to developed countries in recent years. Different from the "brain drain" in the 1980s and 90s when a large number of Chinese students studying overseas chose not to come back after obtaining their degrees, the new emigrants are mainly wealthy families who regard North America and Australia as their top destinations. They most often cite the high-quality education and better welfare in their adopted countries as the motivation for departure.
According to the U.S. Citizenship and Immigration Service (USCIS), Chinese investors received the most green cards through the EB-5 visa program for immigrant investors in 2009, with 1,979.
Canada also allocated more than 1,000 of its targeted 2,055 immigrant investors to China in 2009. Canadian immigration from China rose by 14 percent in the first quarter of 2010 compared to 2009 and by 46 percent since 2005. During Canadian Immigration Minister Jason Kenney's visit to China in September 2010, he said his country had "benefited enormously" from Chinese immigration, and that he was interested in increasing Canada's Chinese population.
According to the Australian Bureau of Statistics, in the third quarter of 2009, China overtook Britain and New Zealand to be the No. 1 source of permanent immigrants to Australia.
On June 16, 2010, the Overseas Chinese Affairs Office of the State Council, China's cabinet, said the number of overseas Chinese had reached 45 million, becoming the world's largest overseas group.
The increased wealth for families in China's big cities due to property price hikes and Chinese currency renminbi's appreciation have enabled not only magnets owning private companies but China's newly arising middle-class to afford the assets standards for immigrant investors.
For example, the average price of new homes within the Second Ring Road in Beijing sold in 2010 surpassed 50,000 yuan ($7,600) per square meter, which means that all residents in this area with homes larger than 100 square meters may qualify as immigrant investors.
"The investment benchmark for immigrating to Canada is 800,000 Canadian dollars, equivalent to 5.31 million yuan. Beijing alone will become a booming market for immigration consulting," Qi Lixin, President of Beijing East J&P Star Consulting Co. Ltd., told Beijing-based Investor Journal.
Under the U.S. EB-5 visa program that gives foreign nationals a chance to earn a green card, if $1 million, in some specially designated areas $500,000, is invested in an American business and that investment leads to the creation or preservation of 10 jobs, the investor becomes eligible for a green card. For many wealthy Chinese, investing $500,000 into a regional center, a high-unemployment area designated by the USCIS, has become one of the most convenient ways to reach their American dream.
In 2010, Canada raised the minimum investment required in their immigration program from 400,000 Canadian dollars to 800,000 Canadian dollars. Australia and Singapore, which are also among the favorite destinations of Chinese emigrants, adopted similar policies. The raised standards have done little to dampen the enthusiasm of perspective immigrants.
"After Canada's new policy was announced in June, many of my clients urged me to complete their application process before the policy took effect in October. Not that they cannot meet the new standards, but they want to save their capital for other purposes. There are so many people whose assets are well above 10 million yuan ($1.5 million)," Jing Qi, a Beijing-based immigration consultant, told China Times newspaper.
Good news for those yearning for permanent residency in the United States is a surge in the number of regional centers, which are eligible to receive immigrant investor money. In January 2009, there were 30 EB-5 regional centers across China; but as of July 2010, 100 regional centers had been approved.
Pursuing quality education
Li Hua, a middle-school English teacher in Shanghai, hated China's college entrance exam just as much as her son does, who is in his final year of high school. Burdened with an enormous amount of homework, the teenager has to study for the exam until 10 p.m. every day. Li figured out a way to save her son from the tortuous exam and meanwhile enable him to enter his dream university.
Selling one of the family's several apartments, Li came up with the money to qualify as an individual investor to apply for an EB-5 investor visa. Her consultant told her an initial EB-5 petition approval by the USCIS, which will only take months, would lead to a two-year conditional resident green card status for her and her family, then if the investment continues to satisfy all EB-5 requirement, in two years the "conditional" status of the green card would be removed.