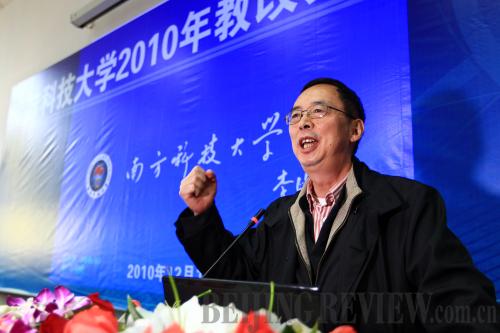 READY TO CHALLENGE: Zhu Qingshi, President of the South University of Science and Technology of China, gives a speech at the university's enrollment consultation on December 18, 2010 (CFP)
Fifteen months after taking the post of president of the planned South University of Science and Technology of China (SUSTC) in Shenzhen, south China's Guangdong Province, Zhu Qingshi could wait no more.
Zhu announced on December 15 last year the university would recruit 50 students nationwide for its two experimental classes to be launched in the spring and grant them degrees independently after they meet graduation requirements, despite the university not having received the go-ahead from the Ministry of Education (MOE) to enroll students.
Zhu said the fundamental autonomy of a university is to select and enroll students and grant degrees, but the reality is that China's universities and colleges have no such right at all. The right is monopolized by the MOE.
The self-committed mission of the SUSTC is to make a breakthrough for the country's higher education system, the 64-year-old said.
Self-governance
Under the current system, high school graduates have to take the national college entrance examination to get into any college. After studying at college for three to four years, they can obtain a degree granted by the MOE.
"The degree-granting mode is what the planned economy has left for us. It's a major bottleneck on the SUSTC's birth," Zhu said in an interview with national broadcaster CCTV.
The SUSTC has spent three years attempting to solve the problem with no results.
Considering the potential risk students face without final approval from the MOE, the SUSTC has determined to charge no tuition. In addition, each of the 50 students will get 10,000 yuan ($1,464) a year to cover their living expenses.
The university would also sign contracts with parents to ensure they are voluntarily taking part in education reform, said SUSTC spokesman Lan Hai.
Lan said the university was negotiating with some well-known foreign universities for cooperation.
"As long as we are recognized by these foreign universities, students can further study abroad even without recognition from the MOE," he said.
Lan also said there would be one teacher for every eight students. Students of different majors would eat, live and learn together. Front-line teachers, academicians and experts would be responsible for educating them.
The university's radical move won applause from many students and parents.
On December 18 last year, the university held an enrollment consultation, attracting more than 1,000 students and parents, many of whom came to Shenzhen from other cities across the country.
Few of those parents said they are concerned about the authority of the school's degree because they believe the knowledge and skills their children would learn in college mattered most.
"We will do our best to train our students, making them first-class professionals welcomed by employers. Nearly all universities in the world have their own diplomas, such as Harvard and the Massachusetts Institute of Technology, so this would be a reform in Chinese education," Zhu said.
Zhu referred the degree granted by the MOE as an "iron rice bowl." As long as one gets a university degree, one is presumably guaranteed a job. Therefore, instead of focusing on teaching improvement, schools spare no efforts to get authorization from the MOE and focus on public relations.
Zhu said the fact more and more graduates can't find jobs in an increasingly tightening employment market means simply getting a diploma does not guarantee a job, and that a reform plan should include encouraging competition among universities.
"The only way to energize China's higher education system is to shatter the 'iron rice bowl'—let the degree be tested by society, not just a stamp affixed by the MOE," Zhu said. "I am going to give lessons to my students, and I am going to talk to them about innovation."
Zhu said the SUSTC would take in students through both high school recommendations and applications from high school graduates of previous years. After two rounds of examination, candidates who pass exams will start their campus life on March 1 this year.
Back to basics
In a letter to the SUSTC's candidates and their parents in December last year, Zhu said old education regulations make it impossible to attain the goal of making the SUSTC a top-level research-oriented university in one leap.
According to existing regulations, a university can only be established on the basis of a successful college or junior college, and then it can apply for master and doctoral programs one after another. After decades it is possible to become an excellent research university.
In 2007, the Shenzhen Municipal Government first proposed establishing the SUSTC, aiming to develop it into a famous research-orientated university within 10-15 years and modeled after Hong Kong University of Science and Technology. Since its opening in 1991, the Hong Kong university, the only science and technology research university in the region, has secured a place on the academic world map in record-breaking time.
On September 10, 2009, Zhu, with his insistence on academic excellence, stood out from 200 candidates and was appointed the SUSTC's founding president for a five-year term. Zhu was president of the University of Science and Technology of China in Hefei, Anhui Province, in 1998-2008 and is an academician with the Chinese Academy of Sciences.