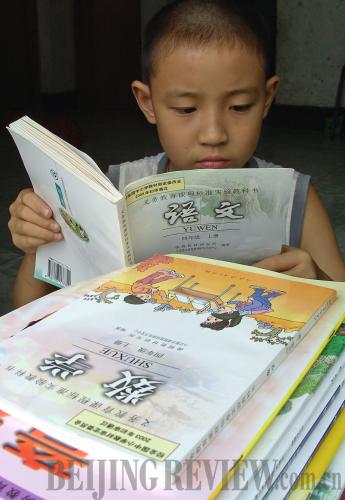 THE UNPOPULAR COURSE: Many education experts have blamed what they say are problematic textbooks for Chinese language courses' failure to interest students (CFP)
Kaiming Guoyu, meaning "open and wise Chinese language," which is an elementary Chinese language textbook from the 1930s, has become so popular among parents that bookstores are now out of stock.
First published in 1932, the two-column Kaiming Guoyu was compiled by prominent writer, educator and publisher Ye Shengtao and illustrated by famous painter and cartoonist Feng Zikai. It was reprinted in 2005 by the Shanghai Scientific & Technological Literature Publishing House.
In the beginning, the republished textbook didn't sell well, but in 2008 sales began rising. In recent months, calls ordering the textbook from bookstores across the nation kept coming in, said publisher Zhao Ju.
"Now I read a bit of the textbook to my son every night before he goes to sleep. The contents are better than those of current schoolbooks. The illustrations help children understand," says a post on China's largest online bookstore Dangdang.com.
The reprinted textbook was discovered by Chen Ningning, an editor at the Shanghai Science & Technological Literature Publishing House. A graduate from East China Normal University in Shanghai in 1983, Chen has devoted herself to sorting out and publishing classical books.
"The textbook was compiled in such a lovely way, there's no reason that children won't fall for it," said Chen. "Articles in the book mostly cover the subjects of man and nature, pets, insects, fish, birds and plants—all intriguing to imaginative kids."
Before republishing the old textbook, Chen contacted Feng Yiyin, daughter of Feng Zikai. She found, after so many years, Feng still had vivid memories about the textbook that her father helped produce.
The textbook was widely acclaimed when it was published in 1932, especially among primary school teachers, recalled Ye Zhishan, son of Ye Shengtao.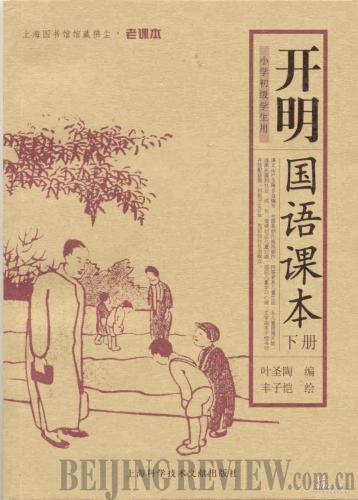 OLD BUT VALUABLE: Kaiming Guoyu, an elementary Chinese language textbook from the 1930s, has regained popularity (FILE)
Many experts in education say they believe the popularity of the old textbook reflects what current school books are missing and the rising dissatisfaction with current Chinese language teaching methods.
"School students don't like the Chinese lessons as they find them boring, hollow, and far from real life," said Wan Fucheng, a veteran teacher of Chinese language in Jinan, Shandong Province.
Not long ago a book titled Save the Kids: A Critical Look at Chinese Primary School Textbooks already put the quality of the current Chinese language textbooks into the spotlight.
Ye Kai, one of the book's co-authors and an editor with well-known literature magazine Harvest based in Shanghai, was being critical of the way famous Chinese literature works, such as The Paradise of Birds, by Ba Jin, a recipient of the Dante International Honorary Award, were edited when they were included in primary school textbooks used in Shanghai. "The revised articles discarded or altered the vivid words, phrases and sentences of the classics for the purpose of simplifying school education," said Ye.
Ye also said the spirit of classical works was abandoned, and the meaning conveyed through accurate and beautiful language was twisted. "These edited articles are as harmful to kids as the toxic melamine is in milk powder," Ye wrote in the book.
Authors of the critical book also analyzed the problems related to three widely used primary school textbooks in China, including those published by the People's Education Press.
Another author Cai Zhaoyang listed three major problems of current textbooks: fabricated texts, neglect of children's needs and excessive promotion of political and moral agendas.
Cai was angry some facts were distorted in the textbooks. The article "Edison Saves the Life of His Mom," for example, tells the story of inventor Thomas Edison saving his mother's life by inventing the lights used in his mother's appendicitis operation when he was 7, in the mid-19th century. But after researching the story, Cai found the world's earliest report of appendicitis operations was in 1886, when Edison was in his 40s.
Cai said some authorized textbooks, which are deemed credible by most students, teachers and parents, contain loopholes to be challenged. He said more teachers and educators should take a critical look at the textbooks, and devote themselves to compiling more credible, readable and educational materials for students.