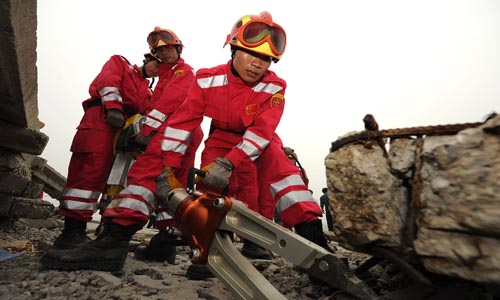 RESCUING WITH HEART: Rescuers from the China International Search and Rescue Team try to lift a big piece of debris during a simulation exercise on July 30 (SHI GANG)
Wang Jiaxu, a 22-year-old soldier with the Engineering Regiment of Beijing Military Command, took part in the search and rescue operations of both the Wenchuan earthquake, Sichuan Province, in 2008 and the Yushu earthquake, Qinghai Province, this year.
He said the complicated situation, including psychological shock, after earthquakes is a paramount challenge for rescue work.
"I was totally astonished at the beginning and didn't know how to rescue survivors," Wang recalled of his experience during the Wenchuan earthquake rescue operation. But after the rescue work, he became physically and psychologically stronger.
The Chinese People's Liberation Army (PLA) has become an important force in such operations as humanitarian relief, contingency response, peacekeeping and counter-terrorism, said Senior Colonel Geng Yansheng, spokesman of the Ministry of National Defense (MND), at a press conference two days ahead of the 83rd anniversary of the founding of the PLA on August 1.
Geng, also head of the MND's Information Office, made the remark during a press tour of the Engineering Regiment of the PLA's Beijing Military Command. He said that non-combat operations have become an increasingly important way of using military force.
Domestic actions
The PLA, the People's Armed Police (PAP), militia and reserve force are the backbone force in domestic disaster relief, Geng said. "Their tasks include location and extrication of trapped victims, protection of key subjects, delivery of relief materials, medical treatment, epidemic prevention, restoration of transportation networks and disaster recovery."
To guide the disaster relief efforts, the State Council and the Central Military Commission jointly established the Regulation on the Army's Participation in Disaster Rescue on June 7, 2005.
So far, the PLA has set up eight crack teams with a total force of 50,000. "Each team has its own specialty, such as flood reduction, nuclear, biological and chemical (NBC) response, airborne transportation support, transportation emergency response, maritime search and rescue, standby communications support, medical stabilization and epidemic prevention," Geng said.