Carbon sink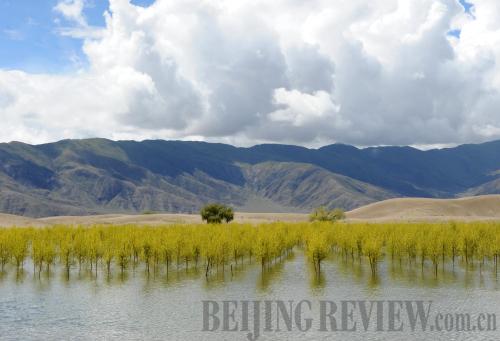 A GREEN WALL: Areas of artificial forest in China totaled 62 million hectares, the greatest spread in the world. This picture shows the artificial woods in the middle reaches of the Yarlung Zangbo River in Tibet (JUE GUO) 

In addition to its traditional role of protecting soil from erosion, forests' roles in absorbing and storing carbon dioxide have attracted attention as global climate change has become a serious international challenge. China had played a big role in mitigating climate change by increasing its forest resources, Jia said.

It is remarkable that China's forest area expanded at an average annual rate of 4 million hectares while the world's forest area was dwindling at an average annual rate of 6.67 million hectares, said Jia, quoting the most recent study published by the Food and Agricultural Organization of the United Nations. China's seventh national inventory shows a total of 7.8 billion tons of carbon is stored in its forests.

To reaffirm China's commitment to curbing climate change, Chinese President Hu Jintao promised at the United Nations Climate Change Conference in 2009 to increase China's forest area by 40 million hectares and forest volume by 1.3 billion cubic meters by the year 2020 from the base year of 2005.

In 2009, the State Forestry Administration published China's Forestry Action Plan to Cope with Climate Change. Meeting the above targets would be a difficult task, said the national report on China's afforestation effort. It noted salient problems in afforestation and forest management and said more than half of the lands to be afforested were located in dry and sandy areas, where the trees' survival rates tended to be low. It also said trees planted by volunteers should be given better care to ensure survival, and noted over-exploitation of forest and overgrazing of grassland still existed in some places.

Forest ownership reform has been completed in 10 provinces, where forest land has been contracted to households, according to state media. The reform has started in another 12 provinces, and is being piloted in a number of other provinces. In the wake of the reform, farmers have more incentives to plant trees and protect forests.