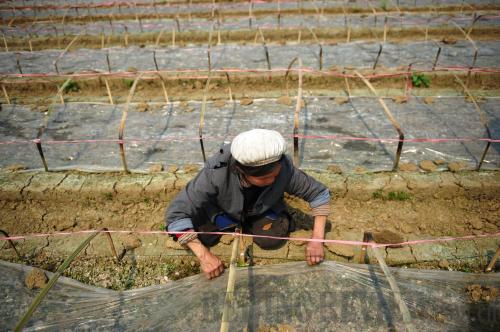 PROTECTING THE HARVEST: A farmer in Guizhou Province covers her crops with plastic film to prevent excessive sun exposure (LIU XU)
Yunnan Province usually boasts one of the most abundant sources of water across China—ranking third among provinces nationwide. The origin of the Pearl River, which runs through the most vibrant economic center in south China, has recently seen its source of water cut off, leaving behind parched land and dead crops.
Economic losses have already started to mount in the face of the most severe drought to affect the southwestern region in decades.
Data from the drought- and flood-control department of Yunnan Province showed water storage at all local reservoirs was 5 billion cubic meters. It is estimated 90 percent of the water will be used up from February to May. If the rainy season fails to come by mid-May, a major proportion of Yunnan residents will be completely deprived of drinkable water.
China Meteorological Administration Deputy Director General Jiao Meiyan said a light rain would fall across a small area of land in the whole southwestern region toward the end of March. Jiao said the government would consider making artificial rain during the raining period to provide additional precipitation.
The lack of water in major rivers has also led to a drastic shortage of hydropower generation, which comprises nearly half of the region's electricity supply. Some rural areas are reportedly rationing power, while thermal power plants are overloaded.
Since September last year, weather disasters have continuously threatened crop growth and the living conditions of tens of millions of people. The northern and northeastern provinces, touted as the "bread basket" of the country, suffered a severe drought last fall that led to 50-percent agricultural losses, said a report of the McKinsey&Company of Greater China. From the beginning of this year until early March, frequent blizzards and low temperatures in north China again added to the misery of the region as a large number of crops were damaged by the drop in temperatures.
"Drought has caused more damage to agricultural output in recent years than other weather disasters, like flooding and frost," said Zheng Dawei, an agricultural professor at the China Agricultural University. Zheng said agricultural output undergoes fluctuations every four to five years, and major natural calamities are often accompanied by a string of secondary disasters.
Although China reaped bumper harvests over the past six years, per-hectare crop output and per-capita food did not increase accordingly. Soybeans, oil-bearing crops and cotton are mostly imported. Zheng said the foundation of food safety and food security in China is not solid.
Zheng warned frequent natural disasters in the near future could shatter agricultural production due to peculiar sun, oceanic and geological activities.
Frequent droughts
Zheng said, China suffers from more significant agricultural disasters than other countries worldwide, due to its location between two disaster belts—the pan-Pacific and Eurasia middle latitude—where earthquakes and geological disasters are frequent. A majority of China's territory is also situated in the continental monsoon climate region where the weather changes drastically from season to season, making agricultural production extremely vulnerable.
In the more than 700 years since the Yuan Dynasty (1206-1368), Yunnan has experienced over 200 droughts varying in intensity.
Xu Jianchu, a climate expert at the Chinese Academy of Sciences, supported the view that the El Nino phenomenon—a result of global warming—exacerbates the damages to atmospheric structure, preventing the ocean monsoon and moisture from entering inland areas. Increasing carbon dioxide emissions, the culprit of global warming, reduce temperature differences in the inland area and ocean, weakening the intensity of wind blowing from the ocean to the land.