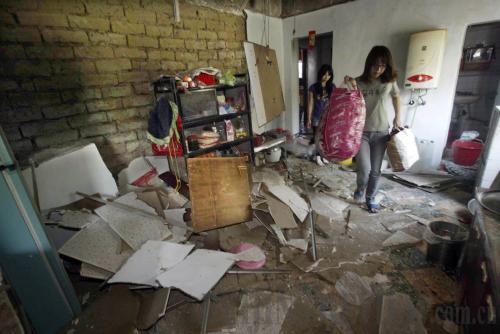 THE POWER OF NATURE: A 6.4-magnitude earthquake hits Taiwan's Kaohsiung area on March 4, causing a mess in a villager's house (XINHUA)
First Haiti, then Japan, then Chile, then China's Taiwan, then Turkey, the Earth jolted its surface. Nature's unexpected and awesome power is being discussed everywhere. There's even a rumor going around implying an upcoming doomsday as it is depicted in the blockbuster 2012.
"Has God put our planet in tremble mode?" Such black humor is circulating in cyberspace and by word of mouth.
Sun Shihong, a senior researcher with the China Earthquake Networks Center (CENC), said the continuous and frequent strong jolts suggest the planet is entering an active era.
"Recent seismic activity is more frequent. Also, the quakes occurred over a relatively wide range. The Pacific seismic belt, the Indian Ocean plate and the Eurasian seismic zone all have a high level of activity," Sun said.
But experts suggest there's no need to worry or panic. The frequency of earthquakes greater than a magnitude of 7 on the Richter scale in early 2010 is within normal range though slightly more than average, said the CENC.
"China's current seismic activity is at the normal level," said Lei Jun, a professor with the School of Earth and Space Sciences at Peking University. The frequency of the quakes is uneven but that was a normal phenomenon of tectonic movement.
"On the global scope, there has been an average of one earthquake above magnitude 8 and 18 above 7 every year since 1900. Earthquakes are active during some periods and quiet in other periods," said Sun.
There have been five quakes measuring higher than magnitude 7 since 2010, a little higher than average.
"Considering the uneven distribution of earthquake occurrence in time and locale, and that they took place in the normal seismic zones, it is the normal rise and fall of plate movements. People have paid special attention to the earthquakes this year because some of the quakes have caused heavy casualties and aroused a lot of social concern," said Sun.
The CENC researcher said since the Earth entered the 21st century, the number of earthquakes registering more than a magnitude of 8.0 have increased significantly compared with previous decades. That was similar to the first half of last century's earthquake activity, which could be a proof for the theory of a 100-year-circle in the study of earthquakes.
"If that theory is true, then it means that such a high rate of earthquake occurrence may last for a while, and most of the quakes will be taking place along the Pacific Rim," Sun said.
Judging from last century's statistics, the earthquake season may be prolonged and maintain a strong level, but there's a higher possibility of the Earth calming down, said Lei.
China is a country with a high rate of earthquakes with 20 quakes measuring 5.0 and three or four quakes reaching 6.0 every year. "They are just a normal energy release of our planet," Sun said.
Early warning highlighted
The recent serial earthquakes have brought attention to the study and application of the country's earthquake early warning system. In China's coastal Fujian Province, scientists have started a research and application project on earthquake alerts and rapid reporting of the earthquake's intensity.
Led by the Fujian Provincial Earthquake Bureau, the state-backed project will cost 17.24 million yuan ($2.5 million) and last for three years.
China started pilot studies on earthquake early warning systems in the late 1990s and has made some achievements.
In 2007, the Fujian bureau developed a regional digital earthquake network real-time rapid reporting system that would automatically measure basic parameters of an earthquake a minute after it happened.
"An early warning before a real quake happens is counted in seconds, but even seconds could mean a great reduction in casualties and property damage. We'll make every effort to develop the technology," said Du Wei, an official with the China Earthquake Administration,
The government has asked for a higher standard of disaster-warning and reduction since the catastrophic Wenchuan Earthquake in May 2008, which should serve as the guiding principle for the project, according to the China Earthquake Administration.
Major Quakes in Early 2010
January 12, a massive earthquake measuring a magnitude of 7.3 on the Richter scale struck the nation of Haiti, causing catastrophic damage inside and around the capital city of Port-au-Prince.
February 27, a magnitude-6.9 earthquake rocked Okinawa Prefecture and its vicinity in southern Japan.
February 27, a major earthquake measuring 8.8 struck southern Chile, triggering tsunamis in the region, and warnings as far away as the other side of the South Pacific Ocean.
March 4, a magnitude-6.4 earthquake hit southwestern Taiwan's Kaohsiung area, causing aftershocks that were felt as far north as Taipei, nearly 250 km away.
March 8, a magnitude-6.0 quake hit the village of Basyurt in a remote, sparsely populated area of Elazig Province in Turkey
(Source: Xinhua News Agency)