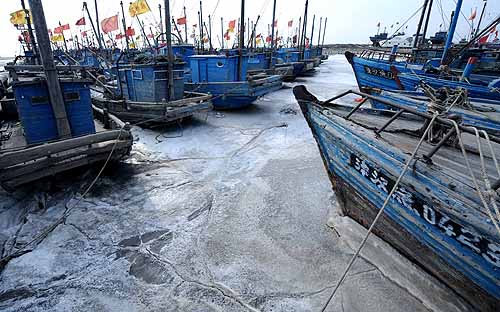 STILL LIFE: Boats are frozen in a village's fishing port in Tianjin Municipality on January 28 (CFP)
Due to record low temperatures around east China's Bohai Sea, the worst ice in four decades has caused enormous losses to marine transport, fishing, aquatic breeding and offshore mining industries in Tianjin Municipality and several provinces located around the water body.
About half of the Bohai Sea, a semi-enclosed inland sea the size of South Carolina, was covered by ice on January 23 as it experienced its worst freeze since 1969. Ice floes stranded ships, disrupted oil drilling and caused economic losses to marine farms, where ice blocked oxygen from reaching captive fish.
The ice appeared in early January along the coastlines of the Bohai and Yellow seas as cold fronts pushed temperatures below minus 10 degrees Celsius, according to the National Marine Environmental Forecasting Center.
Remote-sensing data from the National Satellite Ocean Application Service showed that 12,719 square km, or 80 percent, of the Bohai Bay, one of the three comprising the Bohai Sea, had iced up as of January 23.
Li Baohui, a State Oceanic Administration (SOA) scholar, said the sea ice was mainly the result of low temperatures and brief intervals between cold fronts. Seawater usually starts to freeze at minus 1.5 degrees Celsius.
Zhang Qiwen, another SOA expert, said sea ice growth is cyclical and its seriousness is related to sunspot activities, though some sea ice may be triggered by human activities that affect the oceanic climate, such as the construction of wave dams, marine transport and offshore oil drilling.
Its proximity to Beijing makes the Bohai Sea one of the busiest in the world. Yingkou Port, at the northeastern corner of the sea's Liaodong Bay, is one of the 10 busiest ports in China and is pivotal in the movement of coal shipments from north to south China. It is also used to ship grain that is produced in northeastern provinces and oil that is drilled from the Bohai Bay to other parts of the country.
This year, the sea ice in the bay measures up to 1 meter, the thickest it has been for the last 30 years. The ice is making trips by small vessels of less than 30,000 tons extremely dangerous. During the worst of the ice, Jinzhou Port to the north of the Bohai Sea was using four icebreakers to work around the clock to clear a path for freighters.
Shengli Oilfield, one of China's largest, suffered severe damage by sea ice to its drilling and power-transmission facilities. More than 1,000 wells were affected.
The sea ice has caused more than 2.2 billion yuan ($324 million) in losses to the Shandong Province fishery industry, the local marine and fishery department told China News Service on January 26. The province boasts the largest aquaculture and marine fishing industries in the country. According to the same report, 5,000 hectares of shrimp farms in Shandong are not producing, the province's fishing ports are frozen and more than 4,000 fishing boats are unable to go fishing due to sea ice. One aquaculture company alone suffered 300 million yuan ($44 million) in losses after most of its 6 million abalones died during the freeze.
Sea ice damage to coastal marine fishing has already prompted price spikes for fresh seafood, at the time when demand becomes heaviest for the upcoming Spring Festival, which falls on February 14. Seafood is an indispensable delicacy during family holiday meals in China's coastal provinces.
"We have never seen sea ice at such a scale. We would have encouraged aquaculture farmers to breed their fish farther away from the coast, which is less prone to freezing," Wang Hua, a marine and fishing authority official in Shandong's Shouguang, told China News Service.
Although the total Bohai Sea area under ice has been shrinking since January 24, Lin Shanqing, the head of SOA's disaster forecasting and reduction department, warned against further possible damage to oilfields, freighters and fishing boats during the thaw.
"Floating ice and ice chunks with sharp edges could threaten oil drilling platforms and pipelines and endanger small vessels," said Lin at a press conference on January 27. He reminded workers and sailors to keep updated about the latest sea ice warnings and to avoid traveling across dangerous zones.