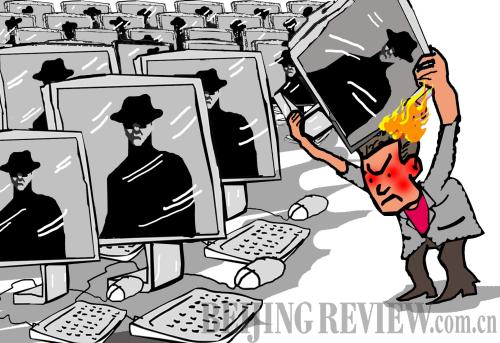 (LI SHIGONG)
A Ministry of Industry and Information Technology (MIIT) spokesperson told Xinhua News Agency on January 24 that China is the biggest victim of Internet-based hacking attacks. The country, the spokesperson said, has enacted laws that make all cyber attacks illegal and is willing to work with international partners to promote Internet security and fight against hacking.
Xinhua: What is your comment on accusations that the Chinese Government participated in cyber attacks?
MIIT: Internet security is a global issue that requires cooperation and the work of all countries. The Chinese Government's opposition to Internet hacking is consistent and firm. Accusations that the Chinese Government participated in a cyber attack, either in an explicit or inexplicit way, is groundless and aims to denigrate China.
Please give an overview of Internet hacking attacks against China.
The Chinese Government has attached great importance to the development and administration of the Internet. Since it entered China in 1994, the Internet has become an important part of the country's infrastructure through rapid growth over the last decade and it has played a vital role in promoting economic and social development. Meanwhile, just as in other countries, the Internet in China is under severe threat from hackers and online virus attacks. A sample survey showed that more than 1 million Chinese IP (Internet Protocol) addresses were controlled by foreign sources and hackers attacked 42,000 websites last year. In 2009, the widespread Conficker worm virus alone infected 18 million computers per month in China, the most in the world, or 30 percent of the global total. Work computers in the sectors of finance, transportation and energy were affected along with home computers, which severely affected China's economic development and people's daily lives.
Please brief us on the government's attitude and measures it has taken against hacking attacks.
The Chinese Government firmly opposes cyber attacks of any kind. The country has been drafting laws and regulations on Internet management. Punishments for cyber attacks are regulated by the Criminal Law, the Law on Public Security Administration Punishments, the Regulations for Safety and Protection of Computer Information and the Regulation on Telecommunications. In 2009, MIIT issued regulations on Internet security and monitoring Trojan virus outbreaks. MIIT coordinated efforts by more than 270 organizations to monitor Internet security send warnings on virus outbreaks and provide emergency assistance. In 2009 alone, the National Computer Network Emergency Response Technical Team dealt with more than 1,000 web security incidents and helped recover economic losses for many banks and e-business websites. Under MIIT guidance, the Internet Society of China organized telecom service providers, Web security businesses, providers of value-added services, search engine providers and domain name registrars to establish an anti-virus coalition that has vowed to protect Internet security together.
What is China's attitude toward international cooperation on Internet security?
China is dedicated to carrying out international communication and cooperation on Internet security and cyber antiterrorism. China actively participates in various programs of the Telecommunications and Information Working Group and Security and Prosperity Steering Group of Asia-Pacific Economic Cooperation (APEC) and has helped to compile the Guide on Policy and Technical Approaches against Botnets under APEC. China has also supported the International Telecommunications Union's Global Cybersecurity Agenda. Since 2004, China has been an active participant in Internet security cooperation under the framework of the Association of Southeast Asian Nations (ASEAN) and has attended several ASEAN Internet security emergency exercises. In 2009, China signed Internet security cooperation agreements with ASEAN and member countries of the Shanghai Cooperation Organization.