Obstacles to legal remedies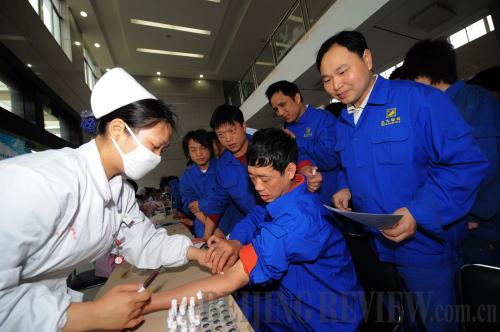 FREE CHECK-UP: Migrant workers in a company in Hunan Province receive free occupational disease check-ups offered by Hunan's Occupational Disease Prevention and Control Center on April 24, 2009 (LONG HONGTAO)
The government developed policies on dust control in the workplace shortly after the founding of the People's Republic of China in 1949, said Li Tao, Director of the National Institute of Occupational Health and Poison Control at the Chinese Center for Disease Control and Prevention. Before the 1990s, the Ministry of Health conducted nationwide surveillance and surveys on occupational diseases and hazards. In 1987, the State Council released a rule on the prevention and control of pneumoconiosis.
But after the 1990s, enforcement of the laws slackened for four reasons, Li said. First, some enterprises experienced financial difficulties and were unable to invest in disease prevention and control due to the economic transformation taking place across the country. Second, rural surplus labor flocked to township enterprises or migrated into cities and many took low-skill jobs that were subject to occupational hazards. Third, some private firms put profits ahead of workers' health, and did not provide acceptable working conditions. Fourth, some occupational disease prevention and control centers lacked funding and were unable to recruit or keep knowledgeable employees. Some of these centers turned into hospitals to survive.
To step up occupational disease prevention and control and safeguard workers' rights, the Ninth National People's Congress Standing Committee passed the Law on the Prevention and Control of Occupational Diseases on October 27, 2001. The law went into force on May 1, 2002. The Ministry of Health also issued a circular on methods to diagnose and assess occupational health.
The law requires employers to provide working conditions that meet national occupational health standards, to take responsibility for preventing and controlling occupational diseases, to be liable for the diseases they have caused, to enroll in work injury social insurance, to periodically evaluate workplace health hazards, to keep records of the employees' health and to give copies of health records to employees upon request.
When an employee is diagnosed with an occupational disease and his or her employer is not enrolled in work injury social insurance, the last employer is to cover costs unless it can prove that other previous employers caused the disease.
Migrant workers can protect their rights through legal channels, said Shi Fumao, a lawyer with the Beijing Legal Aid Office for Migrant Workers, which is one of the few organizations that offer free legal advice to migrant workers.
Shi said it is often difficult for workers to collect the required evidence. Though the law has clear provisions on compensating occupational disease victims, it is often difficult for them to receive compensation, as demonstrated by Zhang's case, Shi said.
Some victims with serious illnesses do not live long enough to see a legal settlement, Zhang added. Normally, it can take at least one year and a half to settle a case, but an uncooperative employer can cause a case to be dragged on for many years.
The law has not always been properly implemented, Li said. Small and medium-sized firms sometimes do not have adequate technologies or incentives to comply with the law because violators face little penalty, and some local governments tend to emphasize economic growth and do not enforce the law rigorously.
Rehabilitation underway
A national campaign to tackle dust and highly poisonous substances was launched in 2009 after Zhang's case was widely reported in the media. It was a joint campaign run by the State Administration of Work Safety, the Ministry of Health, the Ministry of Human Resources and Social Security, the All-China Federation of Trade Unions and the State Administration of Coal Mine Safety.
The campaign is designed to monitor employers and requires them to prevent and remove health hazards, to enroll in work injury social insurance, to sign employment contracts with employees and to train employees on disease prevention and control.
In July 2009, the Ministry of Health announced that a survey would be conducted to identify problems in diagnosing occupational diseases. The survey would also uncover the number of institutions and personnel in charge of occupational disease diagnosis, calculate how many file diagnosis applications and breakdown the number of people with diseases.
On January 17, 2010, People.com.cn reported that construction had begun for China's first treatment center dedicated for pneumoconiosis. The center, located in the Beidaihe Rehabilitation Center for Chinese Mine Workers in Qinhuangdao, Hebei Province, will be equipped with 120 beds when it begins operations in August 2010.
Zhang received successful treatment for his condition in the Beidaihe Rehabilitation Center in late 2009.