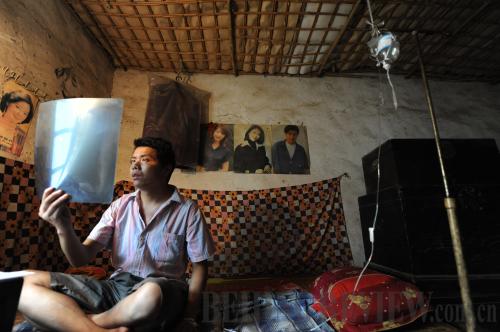 HOME REST: Zhang Haichao, a 28-year-old farmer from Henan Province, receives treatment at home on July 27, 2009, after being diagnosed with black lung disease (ZHAO PENG)
The Guangzhou-based Southern People Weekly magazine listed Zhang Haichao, a 28-year-old rural resident of Henan Province as a mover and shaker in Chinese society in January 2010.
Zhang became famous after receiving an open-chest operation on July 22, 2009, which attracted intense public attention not because the procedure treated a sophisticated disease, but because it put the fate of victims of occupational diseases in the spotlight.
Zhang had been a farmer before working at the Zhendong Abrasion Proof Material Co. in Zhengzhou, capital of Henan Province, from June 2004 to October 2007, where he earned about $120 a month.
He started to cough in the latter half of 2007, thinking he had caught a cold. But X-ray tests at local hospitals showed shadows in his lungs. Zhang then quit his job in October 2007. He was treated for tuberculosis, but his condition continued to worsen. In 2008, Zhang was sent to several hospitals in Zhengzhou and Beijing. He was told he showed symptoms of pneumoconiosis, also known as black lung disease.
But according to China's Law on the Prevention and Control of Occupational Diseases, a victim is entitled to compensation only after his or her case is confirmed by an authorized local occupational diseases prevention and control center.
Zhang went to the center in Zhengzhou and was told that he needed his employer to produce his work history and employment conditions to request an assessment. His former employer refused to produce the required documents.
Zhang repeatedly pleaded to the local government for help. In May 2007, it authorized the Zhengzhou City Occupational Disease Center to assess Zhang's case.
On May 25, Zhang finally got the results of the assessment, but they came back negative for black lung. Suspicious of the results, Zhang requested an open-chest operation for a definitive diagnosis of black lung disease at the First Affiliated Hospital of Zhengzhou University. His doctor found dust lodged in Zhang's lungs, some even visible to the naked eye.
The media reported on the operation, which also caught the attention of Henan provincial officials, who ordered the Zhengzhou City Occupational Disease Center to complete a reassessment. The reassessment confirmed Zhang had phase-three pneumoconiosis. He was compensated 615,000 yuan ($90,441) by his former employer in September 2009.
Rising risks
Pneumoconiosis is a disease caused by inhaling dust particles that comes with prolonged exposure to a dusty working environment. The particles cause lung tissue to inflame and then scar. The scarring is irreversible and can cause shortness of breath. Patients with serious cases need permanent care and lose their ability to work. Without proper treatment, the disease can be fatal.
Black lung is the most common occupational disease in China. Eighty percent of the 700,000 cases of confirmed occupational diseases in the country in 2008 were cases of pneumoconiosis, said Huang Zhendong, Director of the Internal and Judicial Affairs Committee of the National People's Congress Standing Committee.
"The occupational disease rate has been on the rise since 2005," Huang told China Daily. He said 11,159 and 14,296 new cases of occupational diseases were reported in 2006 and 2007, respectively.
Each year, occupational diseases and injuries incur a direct cost of about 100 billion yuan ($14.7 billion) and indirect costs of 200 billion yuan ($29.4 billion), the Beijing-based Outlook Weekly magazine reported in May 2007.
Occupational hazards tend to be overlooked partly because many occupational diseases, like chemical poisoning, can lay dormant for years or decades, and also because those most at risk are ordinary working people who do not have a voice.