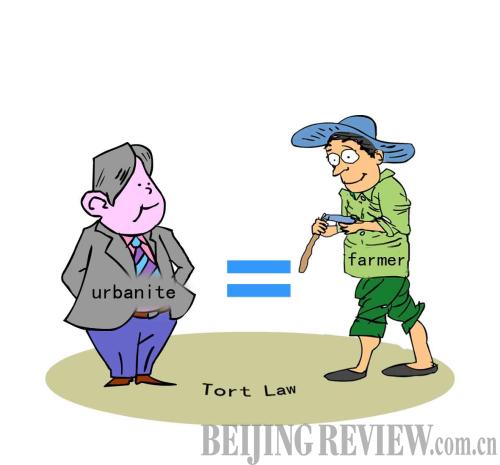 MORE EQUAL NOW: The Tort Law addresses public concern over different levels of compensation for deaths of rural versus urban residents (LI SHIGONG) 
The National People's Congress (NPC) Standing Committee adopted a new Tort Law on December 26, 2009, which is designed to provide a remedy for civil wrongs. It will take effect in July 2010.
The law has 92 articles that define liability in a wide range of circumstances, including traffic and medical accidents, work-related injuries, product defects, infringement of rights over the Internet, pollution and dangerous activities.
A much-needed law
Before the reform and opening up in 1978, China did not have any tort laws except for rules and regulations on railroad and maritime accident compensation that were enacted by the Ministry of Railways and the Ministry of Transport, respectively.
"When I was in what is now known as Southwest University of Political Science and Law in 1979, almost no one there knew what tort law was," said Wang Weiguo, a professor of China University of Political Science and Law.
On April 12, 1986, the General Principles of Civil Law was passed by the NPC, which included a chapter on tort liability. Since then, a few laws relating to tort have been adopted, such as those covering traffic and medical accidents and product defects.
Ren Maodong, an NPC Standing Committee member, said China had more than 40 laws involving tort liabilities, so it was difficult to coordinate all of the new provisions.
A tort law is necessary to allow people to be compensated when another's carelessness, recklessness or intentional misconduct causes injury. Tort cases such as traffic and medical accidents are common in daily life.
A number of tort liability cases in China have recently attracted intense public attention. In 2008, melamine-tainted milk poisoned 296,000 infants and led to the death of six, according to statistics from China's Ministry of Health.
On June 27, 2009, a 13-floor building under construction in Shanghai's Lotus Riverside residential complex collapsed, killing one worker.
After a heavy rain in July 2009, two buildings in Chengdu, Sichuan Province, tilted against each other, leaving residents worried the rickety buildings would soon collapse.
In November 2009, five-month-old Xu Xingzhou died of an eye disease at Nanjing Children's Hospital. Realizing her baby's disease was worsening, his mother repeatedly begged the doctor for treatment. The doctor on duty instead played computer games and did not take adequate action to save the child. The baby died the following morning.
Tort liability cases account for a large proportion of all civil cases, and the infringements on people's rights can come in different forms. Cases can be very complicated, said Du Wanhua, Presiding Judge of the Supreme People's Court's No. 1 Civil Trials Tribunal. He said judges needed a comprehensive tort liability law to which they could refer. The Tort Law has been designed to fill the gap.
Highlights of the law
The Tort Law systematically addresses liability issues, and has pushed several innovations through the legal system, said Lin Jia, a Renmin University of China law professor.
It is the first Chinese law that addresses infringements of people's rights over the Internet. Article 36 of the law stipulates that users and service providers infringing on others' rights over the Internet can be held liable for the violation. Internet service providers who fail to delete posts or block links that have violated other people's legal rights or privacy are liable for the violation.
As the number of Internet users soars, electronic intrusions on people's privacy are also becoming an increasingly salient issue. In October 2009, a case involving Internet privacy caused a public outcry. A person with the username Yan Deli claimed that she had AIDS and published the phone numbers of 272 males with whom she allegedly had sexual contact. A girl with that name came forward, denying she posted any such information, and said that someone must have done it to defame her.
Others have been harassed with the Chinese phenomenon known as human-flesh search engine, in which Internet users launch a massive hunt for and publish certain people's personal information. The Tort Law is meant to curb such infringements on people's privacy.
The law also addresses public concern over unequal compensation for death. The Global Times reported a case in 2005 about three children killed in a traffic accident in southwest China's Chongqing Municipality. The two urban children's families were compensated with more than 200,000 yuan ($29,400) each, whereas the rural child's family received only 90,000 yuan ($13,235).