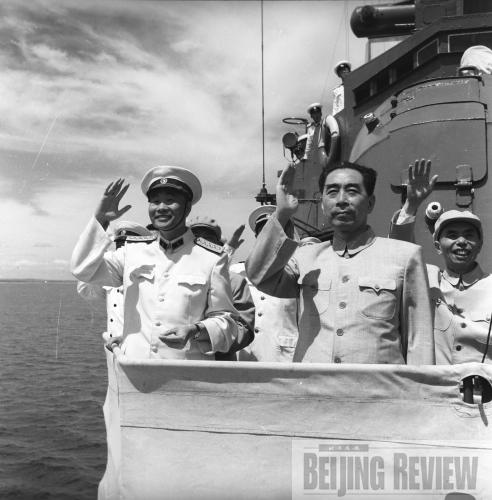 YOUNG TROOP: Xiao Jinguang (left), then commander of the Chinese Navy, accompanies late Chinese Premier Zhou Enlai (center) to view the naval fleet in the coastal city of Qingdao in August 1957 CFP 

O

n the eve of the Chinese Navy's 60th anniversary on April 23, a commander in the fleet said the service is well on its way to becoming an "iron Great Wall" and revealed plans to build powerful ships and airplanes.
"The navy will move faster in researching and building next-generation weapons to boost its ability to fight in regional sea wars under the circumstances of information technology," said People's Liberation Army (PLA) Navy Commander Admiral Wu Shengli, during an interview with the official Xinhua News Agency a week ahead of the 60th anniversary celebration.
China plans to build sophisticated marine weapons, including large surface combat ships, supersonic aircraft and high-speed intelligent torpedoes, Wu said. The navy also expects to build highly accurate long-range missiles, invisible submarines with electronic weapons and facilities.

SHIPS OF THE LINE: Chinese naval vessels take part in the naval parade in celebration of the 60th anniversary of the founding of the Chinese Navy on April 23 QIAO TIANFU 
According to China's latest white paper on its national defense released in January, the country is making efforts to build new types of submarines, destroyers, frigates and aircraft, forming a preliminary weaponry and equipment system with second-generation equipment as the core and the third generation as the backbone.
Humble beginning
In the early 1950s, the PLA Navy set up its five branches—the surface ship force, the coastal defense force, an aviation wing, the submarine force and the Marine Corps. This structure is still used today.
The PLA Navy set up its first flotilla of frigates in November 1949, one month after the People's Republic was founded. A coastal artillery battalion soon followed in 1950. Then the first flotilla of torpedo boats was established in 1951. The first flotillas of destroyers and submarines and the first naval air force division rounded out the nascent service in 1954.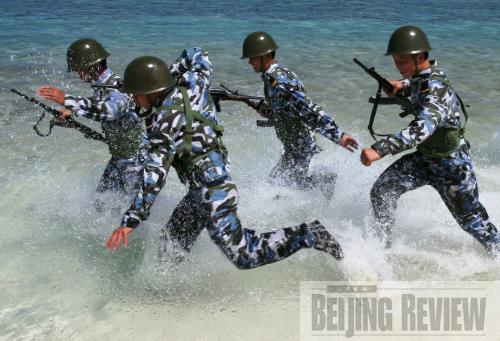 READY TO FIGHT: Chinese marines stationed in South China Sea's Xisha Islands perform a drill in 2005 CHEN YAN
As a result of the country's first Five-Year Plan from 1953 to 1957, China spent an enormous amount of money importing aircraft, coastal artillery batteries and combat ships including destroyers, submarines and torpedo boats. The country also imported technologies and materials to build modern frigates in the mid-1950s.
Wu said by 1955, the PLA Navy grew to include more than 800 vessels, 515 aircraft and 600 antiaircraft guns.
According to Xinhua, China now boasts dozens of squadrons of destroyers, landing ships and support ships in its three fleets. The navy has several hundred combat ships larger than frigates, with a total tonnage five times as much as that in the 1980s. The number and tonnage of the navy's submarines are also dozens of times more than the early navy.
Wu said a number of new conventionally powered and nuclear submarines are equipped with ultra-long-wave communication systems, tactical software and automated command systems and intelligent-precision-guided torpedoes. The new submarines have lower noise levels and possess improved capabilities for underwater survival and defense penetration.
"A batch of third-generation missile destroyers, frigates, submarines and aircraft equipped with sophisticated information technologies have been put into force, whose abilities have been shown in our drills. Technologies like automatic command systems, satellite navigation systems and warfare simulation software have been used on warships, submarines and aircraft," said Wu.
Intensified training
"In the last decade, the navy has held more than 30 naval drills of joint warfare capacities, which have improved its comprehensive warfare capacities," Wu said.
Between 2006 and 2008, the Chinese Navy organized three coordinated exercises under a complicated electromagnetic environment where more than 100 ships and aircraft conducted shore-to-ship, ship-to-ship and ship-to-aircraft exercises with coastal missile-artillery troops. These drills have enhanced troops' abilities in quick reaction, information collection, command-control, electromagnetic interference and anti- electromagnetic interference.