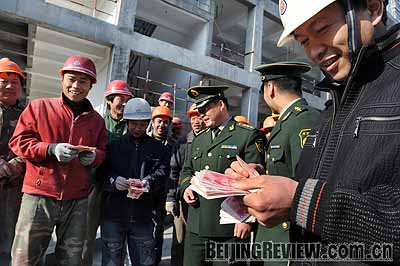 PAY DAY: Construction workers in Qingdao, Shandong Province, collect their overdue wages with the help of local authorities toward the end of 2008 (LI ZIHENG)
The number of labor disputes soared across China last year. In the first half alone, disputes in Guangdong Province doubled over the same period in 2007.
"Cases involving labor disputes in Guangdong soared in 2008," said Ling Qiman, Vice President of Guangdong Provincial Higher People's Court. The court received nearly 40,000 new labor dispute cases in the first six months, up 158 percent from the same period in 2007.
Xie Yingjian, Director of the Arbitration Office of the Guangzhou Municipal Labor and Social Security Bureau, said that the city currently has a backlog of more than 9,600 cases, some of which might not be settled until next September.
Guangdong is not alone. Other provinces, autonomous regions and municipalities also witnessed a sudden rise in the number of labor dispute cases.
According to statistics from the Beijing Municipal Government, labor arbitration departments in Beijing handled 32,954 labor disputes in the first nine months of 2008, up 104 percent from the same period in 2007. Courts in Beijing handled 12,140 first-instance labor dispute cases, up 90 percent from the same period in 2007. Sun Hua, Director of the Arbitration Office of the Xinjiang Uygur Autonomous Region Labor and Social Security Bureau, said the average annual increase in labor disputes was around 17 percent in recent years, but had rocketed to 170 percent in 2008.
China's judicial departments predicted that under the current economic circumstances, the number of labor disputes is likely to keep rising in 2009.
Presently, the majority of labor disputes are concerned with wage arrears, refusal to give overtime pay, illegal dissolution of labor contracts and refusal to pay social insurance. Cases concerned with overtime pay increased most sharply in 2008.
According to statistics from the Administration Law Enforcement Service Center of the Beijing Haidian District Labor and Social Security Bureau, during the first eight months of 2008, cases concerned with contracts accounted for 21 percent of all labor disputes handled by the center. Cases concerned with wage disputes accounted for 18 percent and cases concerned with social insurance accounted for 50 percent.
Facing a sharp increase in labor disputes, Yu Mingyong, Vice President of Guangzhou Municipal Intermediate People's Court, believes the implementation of the Employment Contract Law on January 1, 2008, and publicity surrounding it have improved employees' awareness of their rights. Also, with the implementation of the Law on the Mediation and Arbitration of Employment Disputes on May 1, 2008, labor arbitration became a free service across the country.
The global economic crisis caused many firms to close and pushed many others to the brink of bankruptcy in 2008. Downsizing and layoffs were inevitable, leading to a sudden explosion in labor disputes.
"The economic crisis enlarged the effects of those labor disputes," said a high-level official from the Guangzhou Municipal Labor and Social Security Bureau.
At the same time, some people attributed the burst of labor disputes to the Employment Contract Law, believing it excessively protects employees' rights and interests, which increases employers' costs and leads to a tense relationship.
However, Liu Jichen, Director of the Legal Work Department of the All-China Federation of Trade Unions, does not think the sudden rise in labor disputes comes entirely from the Employment Contract Law. He believes the law simply regulated employers' behavior better, with few extra costs as a result.
According to an investigation headed by Cheng Yanyuan, a professor from the School of Labor Relations and Human Resources at Renmin University of China, covering more than 300 employers in Beijing, 80 percent thought the implementation of the Employment Contract Law did not cause pressure for them and increased their employment costs only slightly.
Many experts believe the rise in disputes is simply due to poor employment practices and a rising awareness among workers of their rights. The way to solve this growing concern could be to raise the legal consciousness of both employers and employees, especially to strengthen employers' consciousness to comply with labor laws.