"Women shoulder social responsibility by giving birth to babies, but we should not leave the whole burden of helping them to companies by legislation," said Ye. As compensation, the government could offer tax deductions or other preferential policies to companies that employ more women than the average, while for companies that employ fewer women than a required ratio, the government could demand that they shoulder social responsibility in some other way, Ye suggested.
As to other concerns that female staff might be unable to do regular overtime work or take frequent business trips when they have babies, Xia said there are already good solutions in Western countries. She gave the example of the United Nations International Children's Emergency Fund, which allows female employees to bring children with them on business trips.
Taking babies with them on business trips might be a luxury for Chinese women at present, but having special baby rooms at the office was at one time a common practice. In fact, in the past almost all factories and institutes had their own nursery.
Career break
For women who choose to take a break from work after having children, Xia advised they limit the length of their leave to avoid endangering their careers.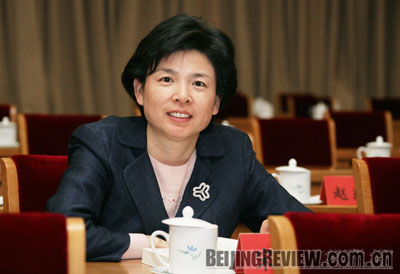 CAREER WOMAN: Song Yushui, a judge in Beijing's Haidian District, is one of the growing number of working women in China
Chinese career women may envy their counterparts in European countries, Xia said, citing the example of a judge from Germany she met. The judge said she was allowed up to one-and-a-half years of paid maternity leave and the court offered training courses upon her return to help her catch up with changes in her field.
"It's a different situation in China," Xia said. "Unlike European countries where a shortage of high-end labor and negative population growth rates are headaches for their governments, China adopts a birth-control policy and has witnessed huge changes in all fields and growing competition in the job market."
Xia called for the liberation of women from housework to allow professional females to focus on their careers. She proposed families pay somebody to do housework for them, or share chores.
She also advocated including the value of housework in GDP calculations in order to give housework a value.
Song believes there should be division of labor between men and women, at least within individual families. A woman can stay at home if her family's financial conditions permit and she feels content with the mothering life, but she should be prepared to return to work if her husband needs her support, Song said.
Ji Pingping, a successful ballerina with the Shanghai Ballet and deputy to the congress, said she was lucky because she was born in a city and a family where women enjoy high status and respect and meet fewer obstacles to success than women in remote areas. Calling herself a traditional Chinese woman, Ji said she would never give up having a baby though it could sacrifice her career as a dancer.
She said she hoped women's federations encourage career women to have babies for the sake of social harmony and development, while offering as much help as possible to mothers.