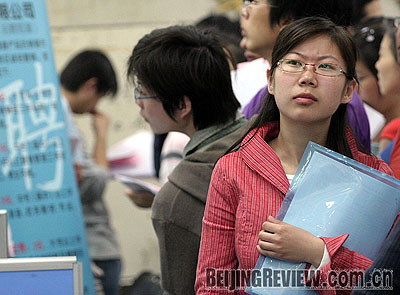 JOB WANTED: The global economic downturn makes it even harder for female graduates to find a job in China's sex-biased job market. The picture shows a job fair in Nanjing City, Jiangsu Province
While the 10th National Women's Congress revealed a cheering 45 percent of China's employed population is female, many women still face discrimination.
Female employees often suffer gender discrimination and married women face the dilemma of losing their jobs if they have children.
The grim reality that 2008 could be the first year of less than double-digit GDP expansion in China since 2002 amid a global economic downturn, weighs heavily on the job market. In addition, a string of employment laws and regulations that became effective as of January 1, which aim to better protect employee rights, will add labor costs to employers and could restrain them from offering more jobs.
A large number of college graduates from the past two summers have not found a job. In November, they will be joined in the search for work by more than 6 million new graduates, making it harder still for female graduates to find work in China's sex-biased job market.
Surveys conducted by colleges and women's federations indicate a growing number of women now consider retreating from the job market in favor of staying at home once they are married or pregnant, although they still occupy a small portion.
"The question is whether it's a happy personal choice for most of them," said Song Yushui, a judge in the People's Court in Beijing's Haidian District and also a deputy to the National Women's Congress. "Whatever the choice, be it to go home or not, or to be a mother or not, is acceptable in a society much more tolerant with diversified lifestyles."
Widespread discrimination
Employers are reluctant to hire young women largely because they might later demand paid maternity leave and because employers are also required to shoulder some birth-related medical fees, said Xia Yinlan, an expert on marriage and family-related laws.
Job discrimination against women is widespread in China. A survey by the Ministry of Human Resources and Social Security conducted across 62 cities last year concluded that 67 percent of employers make explicit unfavorable requirements against women in their job descriptions or prohibit pregnancy during the contract term, and 80 percent of women graduates have encountered gender discrimination in finding a job.
It is stipulated in the Law on Protection of Women's Rights and Interests that employers cannot fire female employees because of marriage, pregnancy, maternity leave or breastfeeding, and the Labor Contract Law also has similar prohibitions.
However, many employers evade these stipulations by forcing female employees out of the workplace. In some cases, pregnant women have been demoted and eventually pushed into quitting. China's incomplete social security system and a lack of social responsibility on the part of many employers are the roots of the problem, according to Ye Jingyi, a professor at the Law School of Peking University.
At present, 60 percent of companies have participated in China's birth insurance scheme for paying employers' birth-related medical fees. Xia proposed that the government make birth insurance coverage compulsory for employers and make insurance participation an important factor in certain assessments of employers, such as corporate social responsibility, or a standard for rewards and punishment.
Both Song and Xia called for greater social consciousness of the fact that women give birth to babies not for themselves but for society to make progress through reproduction of labor power.
Yet, overprotection of women's rights could scare employers and force them to plan evasions, thus affecting stable employment for women, said Ye.