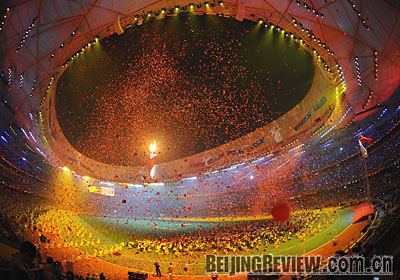 BIG FINISH: The 2008 Beijing Paralympics end with a stunning closing ceremony held in the National Stadium on September 17
With more than 4,000 participating athletes from 147 countries and regions, the 13th Paralympics proved to be a wonderful event for disabled athletes from all over the world.
"We have honored our commitment to the international community," said Liu Zhi, Deputy Secretary General of the Beijing Municipal Government, at a press conference on September 16.
During the Paralympics, which ended on September 17, athletes and officials from different countries and regions enjoyed seamless security as well as blue skies and convenient transportation. Eighteen competition venues and seven training venues ran smoothly during the Games, while 17 Paralympic bus lines accommodated about 280,000 journeys each day. The public transportation system provided accessible services for about 3,000 rides daily for passengers with special needs.
Traffic continued to flow smoothly after the Olympics, with nearly 9 million spectators using the orderly and secure transportation systems. During the Olympic and Paralympic Games, public transportation in Beijing played a vital role. Some 40,000 people with disabilities, including 30,000 wheelchair users, enjoyed the convenience of public transportation. The subway ran 24 hours a day without interruption. All these are new records for Beijing's public transportation system. The added infrastructure, which includes four subway lines, new bus lines and improved disabled access, will continue to benefit Beijing after the Olympic period.
Officials worked to ensure that public transportation was environmentally sound. "Green transportation is taking root in the mind of the general public, and the level of green transportation has been raised considerably during the two Games," said Zhou Zhengyu, Deputy Director of the Beijing Municipal Committee of Communications.
Timely, efficient medical service also contributed to the success of the Paralympics. Three hospitals-the Sino-Japanese Friendship Hospital, Beijing Union Medical College Hospital and Beijing Anzhen Hospital-were dedicated to the Paralympics, during which time they treated 644 people. "We have conducted 1,576 repair jobs," said Liu. "All the medical institutions are running very smoothly and there has not been a single public security incident."
Volunteers also played an active and important role in the Paralympics. A team of 44,000 competition volunteers, 200,000 cheerleaders, 400,000 city volunteers and 1 million social volunteers from 27 countries and regions were allocated in 43 working fields. City volunteers continued to provide language and information services at 550 volunteer service stations. In addition, 1 million social volunteers worked in their communities and around the competition venues. Their thoughtful services received recognition not only from Paralympic athletes and spectators, but also from tourists and media from home and abroad.
"The Paralympic Games have deepened the concept of transcendence, integration and equality," said Liu. "But more importantly we have been able to change the mindset of the people, that is to say that through hosting the Paralympic Games, the entire international community as well as Beijing and China has created a new mentality. As a result of the Paralympic Games, we have a better understanding about the needs of people with disabilities."
"The Beijing Paralympic Games will be remembered for wonderful elite sport, superb organization, stunning venues and spectacular opening and closing ceremonies," said Sebastian Coe, Chairman of the London 2012 Organizing Committee, at a press conference held in Beijing on September 15.