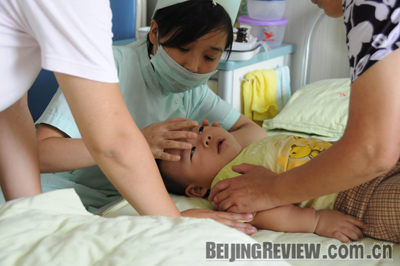 SICK BABIES: An infant who developed kidney stones after drinking a tainted powdered milk product receives care from a nurse. The government has pledged to cover the costs of medical treatment for the more than 6,200 babies who drank the tainted formula
Thousands of infants in China have developed kidney stones after drinking powdered milk produced by domestic company Sanlu Group Co. (Sanlu) of Hebei Province. The dairy product maker has come under heavy fire from the public since the cases came to light earlier this month.
Xinhua News Agency broke the story on September 9 when it reported that 14 infants in the northwest Gansu Province had been hospitalized with kidney stones in the past two months, after bouts of vomiting and difficult urinating. But kidney stones are rare in infants and no case had been reported in the province in the last two years.
Since then, an overwhelming number of reports about severely ill babies have sprung up around the country. The Ministry of Health said that the number of reported cases of infants with kidney stones had reached 6,244 by September 17 and that three babies had died of the illness.
All the infants were found to have drunk Sanlu powdered milk, a brand that is less expensive relative to its domestic counterparts. Afterward, the company quickly became the object of public anger. That was only the beginning of its ongoing nightmare.
The public outrage intensified when tests found melamine, a chemical toxin, in Sanlu's formula. The substance is often used as an ingredient in plastics, fertilizers and cleaning products. Health experts said the presence of melamine could make the milk's protein content appear higher than in reality in product quality tests, but its ingestion could easily trigger the formation of stones in the urinary tract.
Su Changsheng, Manager of Sanlu's Brand Management Department, told Caijing magazine that the company suspected that some unscrupulous dairy farmers and milk dealers had added melamine to raw milk before selling it to the company. They also added water to the milk so that the diluted liquid could pass quality inspection tests, Su said.
Tian Huawen, President of Sanlu, told the 21st Century Business Herald that the company was totally innocent and had been disgraced by the fraudulent milk suppliers. He said Sanlu had detected melamine in the milk in early August, but he did not explain why they did not inform the public. Tian and Zhang Fawang, Vice Mayor of Shijiazhuang, capital of Hebei Province where Sanlu's headquarters are located, have been removed from office. Zhang was in charge of the city's agriculture.