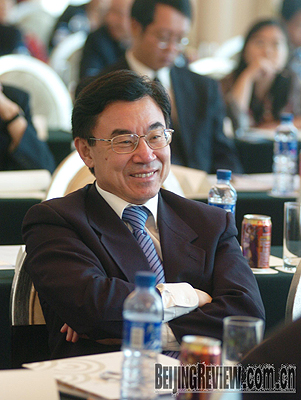 HUANG YOUYI: a senior translator. Upon graduating from the English epartment of Beijing Foreign Studies University in 1975, he joined China International Publishing Group (CIPG) to work as a translator and editor in book publishing and has been the group's vice president since the early 1990s. He was elected Vice President of the International Federation of Translators in 2005.
China's position as a powerhouse of the translation industry is to be cemented, as it becomes the first Asian country to host the International Federation of Translators' (FIT) international meeting.
FIT's XVIII World Congress, to be held in Shanghai from August 2 to 7, is also historic for several other reasons. The half-century old event comes in a year that the UN has proclaimed the International Year of Languages, based on a pursuit of multilingualism as a means of promoting, protecting and preserving the diversity of languages and cultures globally. That idea is reflected in the theme of this year's FIT World Congress, "Translation and Cultural Diversity."
In terms of the number of participants and presentations, this is also the largest FIT world congress ever. It is also unique for the conference to take place in an Olympic host nation on the eve of the sports extravaganza.
According to Huang Youyi, FIT Vice President, over 1,400 people from more than 70 countries and regions have registered to participate in the congress, including 700 domestic participants from China. This makes it the largest FIT World Congress ever.
Huang, who is also Vice President and Secretary-general of the Translators Association of China (TAC), said there are three reasons behind China's domestic enthusiasm for the conference. The first reason is the boom in translation and interpretation in China. The increasing exchanges and communication between China and the outside world at all levels have generated great demand for translation and interpretation services. The second reason is the introduction of new translation techniques, such as localization and translation software. The third reason is that translation and interpretation education in China has been developing rapidly in recent years. Over 70 percent of Chinese attendees at the event come from institutions of higher learning.
As for foreign enthusiasm for the conference, an increasing number of people are becoming interested in China's fast development and the Beijing Olympic Games. "Many foreign participants will become part of the audience of the sports gala or interpreters for their sports delegations at the Olympics," Huang said.