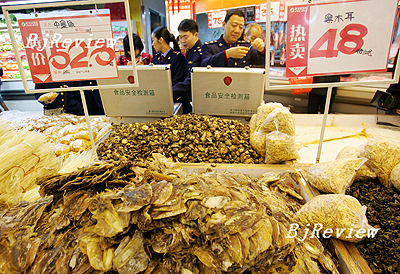 China was put in the spotlight in late May when the Dominican Republic and Panama declared that toothpaste from the country contained diethylene glycol. Soon afterward the U.S. Food and Drug Administration (FDA) and the Hong Kong health authorities began checking shipments of toothpaste coming in from China and told the public to stop using it.
Calling the warning "unscientific, irresponsible and contradictory," China's food regulator said in a statement later that low levels of the chemical had been deemed safe for consumption. It also pointed out that a provision from the Code of Federal Regulation in the U.S. allows diethylene glycol as a food additive.
"Diethylene glycol is used to keep toothpaste moist and should not do harm to the human body," said Academician Chen Junshi from the Chinese Academy of Engineering.
The toothpaste case results from the different yardsticks used to measure food safety in the United States and China, said Xu Xiaodong, a spokesman from a Chinese toothpaste producer, the Guangzhou Liby Enterprise Group Co. The producer of Tianqi Toothpaste claimed that a trade war was behind the event.
Trust crisis
The toothpaste incident and other food safety cases have led to crisis of trust in food safety in China.
In March 2007, a local newspaper in Guangdong ran an article claiming that banana trees in south China had been infected with a disease known as "banana cancer," and as a result would die out in a few years.
The news was carried by some online media and exaggerated to a rumor claiming the tainted bananas could cause cancer.
As a result of this inaccurate information, banana sales slumped sharply since March and the purchasing price for a kilogram of bananas in Hainan, China's major banana production area, dropped from 3 yuan to 0.3 yuan. It was not until the Ministry of Agriculture clarified that the safety of bananas had nothing to do with the plant disease that the price returned to normal, but the case had already led to a loss of 60 million yuan for banana planters.
The case was not alone in Hainan. In July 2006 a rumor that watermelons were being injected with red water led to a loss of 30 million yuan for fruit growers. In October another report claiming that ethylene treatment for ripening bananas was poisonous caused a loss of more than 100 million yuan.
Food safety concerns have caused public panic and triggered a lack of trust, resulting in a considerable negative influence on the food industry, said Dong Tiance, a professor with the College of Journalism and Communications at Guangzhou-based Jinan University.
The level of food hygiene in China has been rising since the 1980s but a series of food safety cases have begun to emerge since 2004, causing increasing concern over food safety.
In 2006, the State Administration for Industry and Commerce dealt with 68,000 cases of food safety violation and smashed 5,900 illegal food workshops, according to the administration's statistics.
Despite this there have been an increasing number of reports about cancer-causing products, ranging from food to cosmetics and even clothing.
"Public panic about unsafe food will never be rooted out until the real hidden dangers of food quality are cleared," said the professor.
Why the buzz
Local media in Foshan, Guangdong Province, reported that many farmers there grow vegetables near ditches filled with foul water and garbage dumped by local enterprises such as pottery and porcelain factories. Over 50 percent of the farmland has been contaminated at different levels, specifically by heavy metal polluters. Some farmers confessed that they never eat the plants that are grown on their own land.
Experts say that washing or boiling does not remove heavy metals from vegetables, which can cause health problems as it accumulates.
There are two major factors that play an important role in China's food safety situation: too much pesticide used in vegetable growing and an excessive amount of food additives used in food processing, according to Cao Zhongsheng, Chief of the Consumer Protection Department in the Beijing Administration for Industry and Commerce.
According to Chen of the Chinese Academy of Engineering, microbes, or food poisoning, are the number one criminal in food safety in China. Microbes make up 98.5 percent of food poisoning cases, while chemicals and natural poisons comprise only 0.7 and 0.8 percent.
China now has some 7 million food processing units, 80 percent of which are small workshops that are backward in processing techniques and poor in hygiene. Between 20 and 30 percent of them fail to meet industry standards.
"The diffusion of industry distribution of such small food processing plants makes it difficult for the government to manage them," said Cao.
What to do
On April 17 the State Council released a national plan for food and drug safety, which stated that China will have a basic food safety system by 2010, including detailed objectives such as extending food safety monitoring to cover 95 percent of food.
Starting in 2001 the Chinese Government has worked out some concrete measures including the creation of a quality license system and an enforced quality checkup to guarantee food safety.
According to Wu Jianping, an official from the State Food and Drug Administration (SFDA), China's food market access system covers 28 categories and 525 types of food, and 90,000 companies have obtained the production license. Products from these authorized companies make up more than 90 percent of the market.
To collect information of food safety the State Administration for Industry and Commerce in 1999 set up a complaint hotline. In 2006 alone the hotline received 4.68 million calls and saved customers 780 million yuan.
"We check every complaint we receive," said Han Miao, Deputy Director of the 12315 Consumer Complaint and Inquiry Center under the Beijing Administration for Industry and Commerce.
"There are too many government departments involved in the food safety monitoring and management, and besides, the punishment for food safety violation is too light. We need a food safety law to coordinate management and toughen punishments," said Li Jiping, Director of the Jiangsu Provincial Food and Drug Administration.