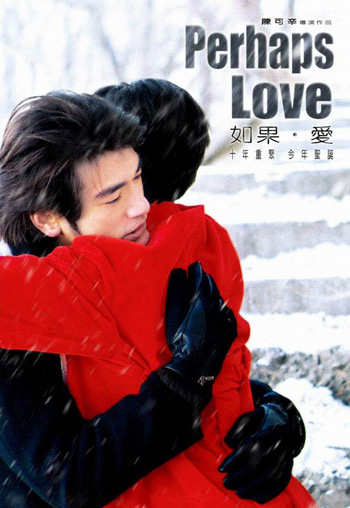 The movie poster from Perhaps Love (CHINATAIWAN.ORG)
More than 10 Chinese films, including the former highest-grossing The Founding of a Republic, will be screened at the Second China Image Film Festival, UK's only non-profit Chinese film festival and largest Chinese film festival in Europe, from October 3 to 10.
Other movies include Perhaps Love, Tian An Men, Sophie's Revenge and Welcome to Shama Town, said Kong Xiangxi, the executive chairman of the film festival, at a news conference held on August 16.
"The films screened are selected by Chinese film's watchdog, the State Administration of Radio, Film, and Television (SARFT). The films all present Chinese culture from a variety of perspectives," Kong said.
The annual festival was organized jointly by China Image Ltd. and China Film Promotion International since 2009. It is supported by the SARFT, the Cultural Office of the Chinese Embassy to the United Kingdom, the British Film Institute, Westminster Art, United Kingdom Cultural Affairs Bureau, and British Film Culture Bureau.
"The festival will help introduce high quality Chinese films to British audiences, and enhance the exchange and cooperation between Chinese and British movie-makers," said La Peikang, a senior SARFT official.
(Xinhua News Agency August 17, 2010)