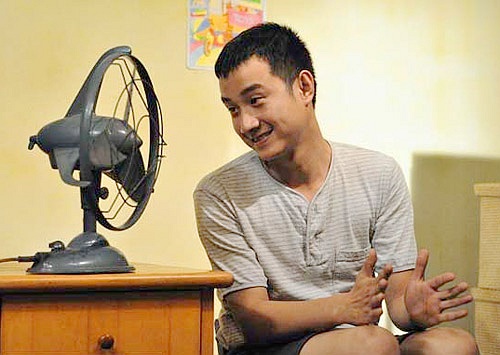 Wen Zhang in Ocean Heaven (CFP)
The Chinese film Ocean Heaven has attracted intense attention as kung fu superstar Jet Li's first non-action role. Li plays a single father suffering from cancer who tries to help his 21-year-old autistic son survive on his own. But Li is not the only actor worth noticing in this film.
Wen Zhang, who is better known in China as a TV actor, plays the son. His performance is so natural that many thought the actor was actually autistic.
"No, I had no idea what autism was before this film," the 26-year-old actor said.
"Initially, I thought autism was all about not talking much," said Wen. "Director Xue Xiaolu didn't like my reaction when I first met her. She has volunteered for many, many years at an autism center. She required me to visit autistic children. So I did. I was plain shocked when I saw them."
"Those kids were cute and that somehow saddened me. That was when I told myself, 'I need to do this role.'"
But passing as an autism sufferer is no easy job. Wen spent half a year living side by side with autistic children, observing them and simply trying to understand them.
In Ocean Heaven, you will see many scenes in which Dafu, Wen's character, unconsciously raises his shaky left hand.
"Each autism sufferer has some symptoms that show in his or her behaviors. I was thinking I needed to mimic a typical gesture," said Wen, who eventually picked hand-trembling after watching many documentaries about autism. "That is a beautiful gesture," he said.
"I met many parents of autistic children who came up and said to me, 'Wen Zhang, are you autistic as well?'" Wen took that as a compliment.
Wen said his experience with Ocean Heaven was a learning process.
"Working with the big names, (The film's crew also includes cinematographer Christopher Doyle, composer Joe Hisaishi and art director Yee Chung Man.) I was nervous at the beginning, always fearing making mistakes," he noted. "But their tolerance calmed me down. It was a very, very good learning experience."
Ocean Heaven was the opening film at this year's Shanghai International Film Festival, which kicked off on June 12. For the opening red carpet show, Wen wore a T-shirt from the One Foundation, which he volunteers for. The One Foundation is the charity fund Jet Li founded in 2007.
"What I learned from daddy Jet is how to be a good man," said Wen, who calls Jet Li that because Li is his father in the film.
"You need to be a good man before you are a good father." Wen, who became a father in 2008, had this to say about defining a good father: "A good father is a role model for his children. He must have something worthy of respect."
Ocean Heaven is competing for the top Golden Goblet award at the Shanghai International Film Festival. Wen says he has his fingers crossed, but what he is looking forward to more than the awards is the autism awareness the film will bring.
The film opens in Chinese cinemas on June 18. Golden Goblet winners will be announced on June 20.
(CRIENGLISH.com June 15, 2010)