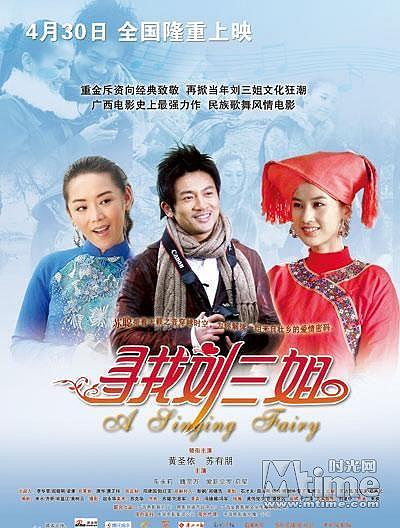 The poster of A Singing Fairy (MTIME.COM)
The film A Singing Fairy is set to be screened on April 30, and it will be the third film based on the story of the classic Chinese figure Liu Sanjie, Sohu.com reports.
Unlike the previous two films, this one describes a modern love story caused by the legend of Liu Sanjie.
Alec Su plays a Chinese American named Wei Wende who is a music academy graduate who returns home to get inspiration. While traveling around Guangxi Zhuang Autonomous Region, Wei falls in love with his tour guide, Liu Tiantian, played by Eva Huang.
The most anticipated part of the film is the unique folk songs and dances of different minorities, such as the Zhuang, Tong, Yao and Jing ethnic groups. All of these are represented in the aesthetic culture of Guangxi.
(CRIENGLISH.com April 12, 2010)