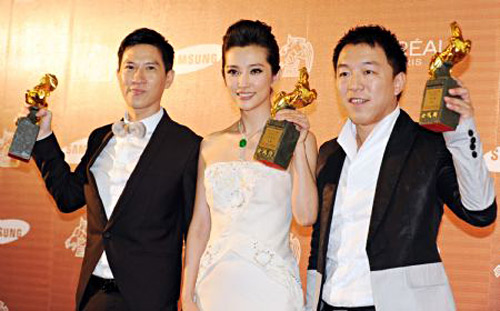 Mainland actress Li Bingbing (middle), Hong Kong actor Nick Cheung (left) and mainland actor Huang Bo hold their throphies for Best Leading Actor and Actress at the 46th Golden Horse Awards in Taipei, on November 28 (XINHUA)
Chinese mainland actors and movies received a series of titles of the 46th Taiwan Golden Horse Awards Saturday night.
Li Bingbing took the best actress award for her performance in The Message, an espionage movie produced by Huayi Brothers Media Group and Shanghai Film Group.
Huang Bo shared the best actor title with Nick Cheung from Hong Kong with his performance in Cow, which is the first time for the award to have a shared best actor title.
Wang Xueqi and Yu Shaoqun won the best supporting actor and the best newcomer titles for their performance in Forever Enthralled, a biographical movie for renowned Beijing Opera artist Mei Lanfang.
Cao Yu with City of Life and Death, a movie depicting the Nanjing Massacre during Japanese army's invasion of China, won the best cinematography, and Crazy Racer won the best special visual effects.
(Xinhua News Agency November 29, 2009)