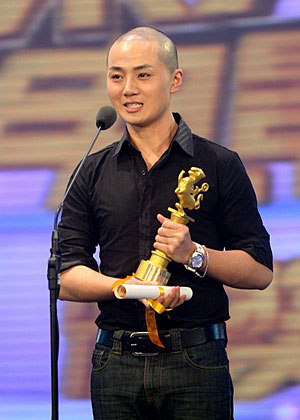 Yu Shaoqun won the best newcomer as younger Mei Lanfang in Forever Enthralled (Sina.com)
The awards ceremony of the 16th Beijing University Student Film Festival was held Sunday night at the Olympic Sports Center Gymnasium, with the Best Film award presented to director Chen Kaige's biopic movie Forever Enthralled.
Hong Kong kung fu actor Donnie Yen won the Best Actor award for his wonderful play of the title role of Ip Man, while Zhou Xun was named the Best Actress for her role in The Equation of Love and Death.
Director Zhang Jiarui took the Best Director prize for Red River, which tells a tragic love story about the aftermath of the American War in Vietnam.
Yu Shaoqun, the former Yueju opera actor who made his big screen debut in Forever Enthralled as younger Mei Lanfang, was awarded the Best Newcomer.
The Students' Favorite Actor, Actress and Director awards, which were voted solely by college students during the festival, went to Fan Wei (Set Off), Zhang Jingchu (Red River) and Wilson Yip (Ip Man) separately.
(CRIENGLISH.com April 28, 2009)