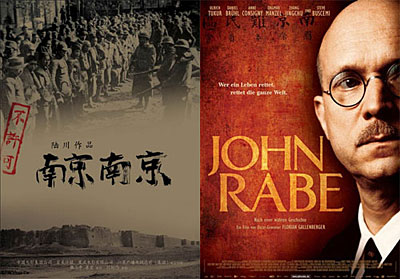 Posters of Nanking!Nanking! and John Rabe (CRIENGLISH.com)
The World War II films John Rabe and Nanking!Nanking! are ready for a box office race as cinemas throughout China are scheduled to roll the two pictures on their screens in April.
John Rabe, a joint production by China, Germany and France, is a biopic of German businessman John H. D. Rabe, who saved two hundred and fifty thousand Chinese refugees during the 1937 Nanjing Massacre, the notorious mass-slaughter waged by Japanese invaders, which killed over 300,000 innocent Nanjing civilians.
Rabe's legend caught the attention of German public in 2007 when German local TV station NDR aired a documentary Nanjing 1937, which recorded in detail John Rabe's humanitarian deeds in China.
Rabe's book John Rabe's Diary, written in 1937 when he was living in China, disclosed the sordid truth of the Japanese brutal killings in Nanjing. The book was first published in Germany in 1996.
The war epic has led the German Film Awards with seven nominations, as announced recently.
Presented by Chinese mainland entertainment giant Huayi Brothers, the film is going to hit cinemas on April 28.
In the meantime, another Nanjing Massacre film Nanking!Nanking!, directed by Kekexili director Lu Chuan, will also be screened, just two day ahead of the premiere of John Rabe.
The film has been widely complimented by industry insiders after a few sessions of test screenings.
(CRIENGLISH.com March 22, 2009)