There are many ways to express one's love for a city. Three directors, including Chinese rock 'n 'roll icon Cui Jian, have chosen to film it.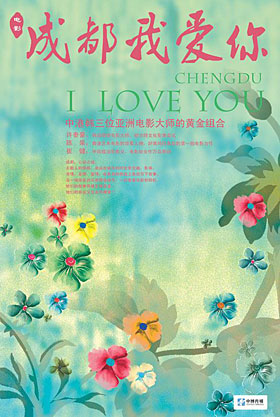 The poster of Chengdu I Love You (Sina.com)
Cui, Hong Kong director Fruit Chan and South Korean Hur Jin-ho are collaborating on a project called Chengdu I Love You. It was inspired by an acclaimed series of short films on Paris, which featured at the 60th anniversary of the Cannes Film Festival and had a multinational cast and crew.
The three directors are working on scripts and will start directing their own 30-minute segments in the Sichuan capital from next April.
Producer Chen Weiming, who conceived the project, says he was inspired by local people's irrepressible optimism after the May 12 Sichuan earthquake.
"People moved on strongly, keeping their original lifestyle," he says. "You can still see them playing mahjong along the road. I want to tell people that Chengdu's beauty and energy have not faded since the earthquake."
The three segments have different themes. Cui's is on friendship.
Having directed a short film before, 47-year-old Cui says his job is not as hard as many imagine, especially for a musician like him.
"When you plan a concert, you have to think about the stage, lighting, audio effects and so on. It is like a small film," he says. "Maybe my film is not that qualified technically, but what really matters is the message I want to convey in it."
If the script includes a middle-aged musician character, Cui says he will happily play the role himself. But he also emphasizes that filmmaking is only one of his hobbies and he will definitely keep working on music.
Fruit Chan, the 49-year-old Hong Kong independent director best known for his films on the everyday life of common Hong Kong residents, will present a story on family life.
Having visited Chengdu several times, Chan says he truly understands the city since the quake. "People here have an optimism, which moves me a lot," he says.
South Korean director Hur Jin-ho, 45, became popular with Chinese cinephiles with a series of melancholy love stories like Christmas in August and April Snow. He will handle the segment on love.
"The May 12 earthquake broke many hearts in South Korea, too, and it is the reason I joined this project," he says.
The three men went to Chengdu for five days earlier this month. What impressed Hur, was not only Sichuan's spicy food and beautiful ladies, but also the fact that people were living in hope and smiling.
(China Daily December 30, 2008)