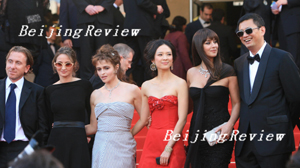 At this year's Cannes Film Festival, Chinese directors made their presence felt again in a significant way. Two Chinese films--Luxury Car, by Nanjing-born director Wang Chao, and Gwai Wik, by Hong Kong directors Oxide Pang Chun and Danny Pang--were entered in the non-competitive section, Un Certain Regard. The section is reserved for good films that are deemed not suitable for the main competition but worthy of recognition.
Wang described his feeling after winning the top prize in the Un Certain Regard section as "comforted," rather than "excited," since it proved that his film was accepted again by people after his first two episodes, The Orphan of Anyang and Night and Day, were presented in 2001 and 2005, respectively. Wang said the competition at the Cannes festival was really fierce, and he was pleased with the reaction to Luxury Car.
"Luxury Car continues the reflections and criticisms already expressed in my first two films, on the reality and historical and political allegories of contemporary China," Wang said.
He explained his motivation in making the film. "Here, the gap between the rich and poor, the distance which separates people from happiness, the contradictions between the social system inherited from the past and the burden of the present are so many problems that I myself, as a full-fledged member of the people, feel all the weight and intensity. That's what made me decide to shoot the picture."
"Le Figaro gave it a good review," Wang added, referring to the major French newspaper.
The other Chinese film selected for screening--Summer Palace, by "sixth generation" director Lou Ye--was the only Chinese and Asian movie competing for the prestigious Palme d'Or award along with 18 others, including Volver by Spanish director Pedro Almodovar, Red Road by British director Andrea Arnold and Marie Antoinette by American director Sofia Coppola. Wind That Shakes the Barley, by British director Ken Loach, won the top prize.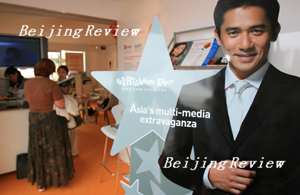 Since the Chinese movie Farewell, My Concubine, directed by Chen Kaige, won the Palme d'Or in 1993, no Asian film has won the award. Nevertheless, Asian films have become a much more important part of the Cannes festival.
Thierry Frémaux, an artistic delegate to the festival, said that from the aspect of art, grand film festivals would no longer exist without Asian films. As for the film industry, he pointed out that professionals taking part in the Cannes event are paying more and more attention to the Asian continent, especially China.
This year's Cannes Film Festival was considered to have raised the profile of Chinese filmmakers not only because of the selection of three Chinese movies for screening, but also, more importantly, because Hong Kong director Wong Kar-wai was named the first Chinese jury president in the history of the festival and mainland star Zhang Ziyi was one of the nine jurors.
Wong, who was born in Shanghai, presented his films Happy Together, In the Mood for Love and 2046 in the Competition section of the festival in 1997, 2000 and 2004, respectively. And he won the Best Director award for Happy Together in 1997.
Eyes on Chinese movies
Asian films, or more specifically Chinese films, including ones from the mainland, Hong Kong and Taiwan, have received widespread notice from the media and industry insiders.
Roy Genty, a Parisian art director who saw Hong Kong auteur Johnnie To's Election 2 in the Out of Competition section of this year's festival, said the Hong Kong film was "pretty strong visually."
"I like the motion, the choreography," Genty said.
Discussing the story line itself, which tells of a mob boss' efforts to go into a legitimate business, Gentry said there is an art to directing that has been prioritized in Asian films, popularized by Quentin Tarantino, a renowned U.S. film director, and accepted of late more by the West.
"[Tarantino] himself was addicted to Asian movies," said Genty, who was at one time an experimental filmmaker.
Compared with Hong Kong movies, mainland ones are "too realistic, too ordinary," according to Thomas Richardson, a French arts journalist who has covered the Cannes festival for years. He added that Hong Kong films look more like "entertainment, imagination."
But Richardson also pointed out that Election 2 was far too short and succinct, and did not have multiple layers of symbolism. This is different from many mainland films, which appear to have the opposite problem: often displaying complex, stressful weaves of social fabric, the patterns that emerge can be too long, repetitious or just not dramatic enough.
There is no question that China, whose 1.3 billion people are undergoing dramatic social changes as the country rapidly modernizes, is a source of ideas for films about the human condition. "I'm convinced that every Chinese film director has the responsibility to examine the realities of today's China," Wang Chao said.
But examination, suitable for science, is misplaced in film without the right amount of dramatization. If both the mainland and Hong Kong could learn from each other artistically, there could be enough synergy to create many more powerful Chinese films worthy of critical acclaim both in the East and the West, industry experts say.
Guisi, by Taiwan director Su Chao-pin, also entered the Out of Competition section, together with Election 2.
Asked if Guisi would help to promote the development of Taiwan's film industry, Su said the biggest problem now is not money but not having the quality to attract investors.
"We do not lack capital, but talent," Su told Sina.com.cn. He said the film industry in Taiwan has been declining for about 20 years, during which time many good filmmakers, including those engaged in play writing, directing, art, photography, stage design and music, have gone elsewhere.
Su's words were echoed by Johnnie To, who also said that many good directors and stars in Hong Kong have been employed by foreigners to produce Western films.
Also a business
Films are not only a kind of art but also a real business. For many Chinese filmmakers enthusiastically participating in the Cannes festival, which serves as a platform for public communication, the priority was not winning awards but arranging business deals. They went to promote their products and look for foreign buyers.
Certainly, having a presence at one of the world's premier film festivals and winning awards there help to give a film credibility. Wang Chao, for example, did not deny that winning the top prize in the Un Certain Regard section would help to promote Luxury Car, which is scheduled to be shown in China in late June or early July.
According to Shenzhen Daily, mainland director Chen Kaige spent more than $1 million at Cannes last year to promote his film The Promise. And this time, Feng Xiaogang reportedly spent $500,000 to hold a beach party for his new blockbuster, The Banquet.
Other Chinese films, including Perhaps Love by Peter Chan, A Chinese Tall Story by Jeffrey Lau and Dragon Tiger Gate by Donnie Yen, were screened at Cannes. The festival has become a huge market that Chinese directors do not want to miss.
(Additional reporting by Matt Young in Cannes.)