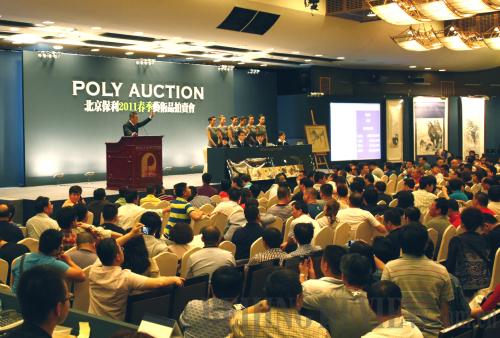 BOOMING AUCTIONS: A painting of Wang Meng in the Yuan Dynasty hits the highest price of 402 million yuan ($63.03 million) this year at Beijing's Poly Auction on June 5 (XINHUA)
Even a painting with a whopping price tag could be a fake. The Portrait of Lady Jiang Biwei, an oil painting thought to be a masterpiece of renowned Chinese artist Xu Beihong (1895-1953), set a new auction record for Xu's work at the price of 72.8 million yuan ($11.47 million) in June 2010.
But a buyer never knows what is going to happen to his or her new piece. Last September, 10 contemporary painters questioned the portrait's authenticity and claimed it was a student work from a painting exercise they had while studying in the Chinese Central Academy of Fine Arts in 1983.
Yang Songlin, one of the 10 painters, said their purpose was to protect Xu Beihong's fame and warned collectors of counterfeits.
While causing a heated discussion, the incident has brought to the surface a number of problems that have plagued China's art market for years: Auction companies sell fake artworks without punishment. Unqualified experts and art agencies offer unreliable endorsements and certificates. Counterfeiters grow in numbers.
These knotty issues can only be solved when qualified third-party artwork authentication and valuation agencies are established and relevant laws are introduced, said Beijing-based antiques expert Ma Weidu.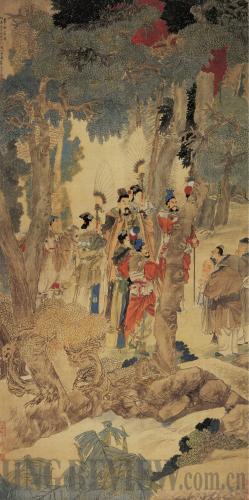 WHOPPING-PRICE PAINTING: Hua Zhu San Duo Tu, a painting of the Qing Dynasty artist Ren Bonian is sold for 145 million yuan ($22.73 million) at an auction in Hangzhou on July 16 (XINHUA)
China leaped from the ninth to first place in 2010 in terms of artwork sales worldwide, said art market information provider Artprice. The transaction volume of China's art market is expected to more than double the previous year's figure in 2011.
Spurred by increasing art sales and overnight fortune stories, speculators have flooded the market. Short-term interests prevail over honesty in China's art collection circles, although old-school antique merchants valued their reputations and sought loyalty from their customers for long-term benefits.
The art market is widely regarded as the best hot money shelter, given China's stagnant and volatile capital market and real estate market.
Statistics from an art collectors' forum last November show the return rate on artwork investment has increased to 26 percent, exceeding that for investments in stocks or houses.
While driving up prices, speculation encourages counterfeits. In the portrait case, it's ironic that Xu's elder son, Xu Boyang, endorsed the authenticity of the work.
"The case reflects difficulties in art work authentication today," said Gan Xuejun, General Manager of Beijing Huachen Auctions Co. Ltd. "The art market is filled with numerous counterfeits which carry various authentication certificates."
Growing artwork sales have created huge demands for art work authentication and valuation. But authentication of artworks as a service is mainly given by so-called experts, unqualified auction companies or art agencies in China now, which makes it impossible to guarantee the reliability of such services.
"Indiscreet experts and art agencies, who put economic benefits ahead of their fame and honesty, often endorse artworks without due investigation, " Gan said.