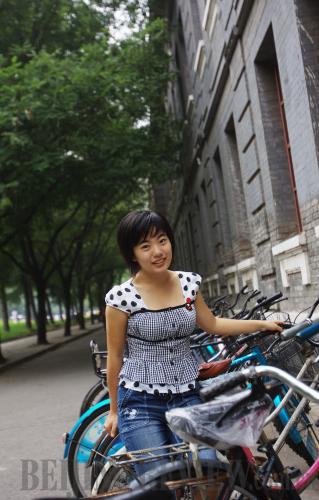 LUCKY WRITER: Jiang Fangzhou is happily enjoying her campus life at Tsinghua University (CFP)
A writing competition exclusively for writers born after 1990 has kicked off in Beijing sponsored by People's Literature on July 17, a magazine established in October 1949 and widely considered the "cradle for Chinese writers".
The final list of winners will be announced next April.
The competition has attracted great public attention because of its young judges, among whom the most illustrious is Jiang Fangzhou, who was a famous teenage writer.
Born in October 1989, Jiang claims she has been busy writing since she was born. At the age of nine, when her peers were learning to write sentences, Jiang published her first collection of essays. She began her first novel at 11 and became a columnist for newspapers and magazines at 12. She received the first prize in a writing competition for teenage writers in 2004 and became the first president of the China Teen Writers' Association in 2005.
Chinese teenage writers have increased in number from several years ago when Jiang was one of them. Now, many junior middle school students and even primary school students have published their works and some have become bestsellers.
"More than half of my classmates can write and are now writing novels," said 11-year-old Tian Xiaorui from Beijing Primary School who published a new book this year. "Writing is not something for us to play with; instead, we put into it our love for and perception of literature."
Statistics from Beijing OpenBook Market Consulting Center show books written by teenage writers account for about 10 percent of the literature market in China.
Anhui University's Associate Professor of Chinese literature Wu Meizhen, who used to write a column in a teenagers' magazine, has received countless submissions from children. In 2009, she began to select from those writings and considered publishing them in a collection.
"At first, publishers were not sure whether people were interested in children's writings," said Wu. "But the fact that 1.2 million copies have been sold has convinced them of their popularity."
A child's view
Ten years ago, the then 12-year-old Jiang included discussion and description of puppy love, adultery and homosexuality in her second book, which was marked with curiosity about the adult world. The book astonished many adults and was harshly criticized by some, but more admired her keen observation and wild imagination.
"Adults don't know children's life at all," said Jiang. "We are too naive and simple in their eyes. They can never imagine our real life."
Famous Chinese writer Chen Cun says adults have an inability to perceive the inner world of children. "Don't underestimate today's children. It's quite normal they know everything," said Chen. "Instead of letting adults imagine what's going on within children's minds, we should encourage more children to write about their own worlds."
In the eyes of teenage writer Meng Xiangning, a senior middle school student in Shi Jiazhuang, capital of Hebei Province, novels describing teenagers by adult writers have made the image of the post-90s generation ugly.