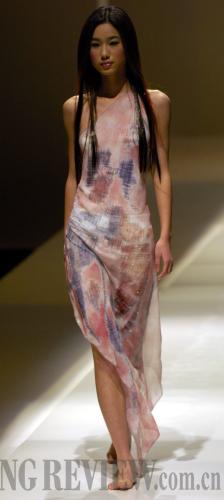 BEAUTY IN GREEN: A model wears an environmentally friendly dress designed by famous Chinese designer Liang Zi during the 2004 China International Fashion Week in Beijing. The dress is made of handmade silk dyed in plant juice, an ancient method of cloth making in China (PANG XINGLEI) 
On November 24, 2009, the State Council, China's cabinet, said China was to reduce carbon dioxide emissions per unit of GDP by 40 to 45 percent by 2020 compared to 2005.
The textiles and apparel industry of China, which is internationally competitive, is setting energy-saving and emissions reduction targets.
Greenhouse gas emissions during the entire lifecycle of apparel production include the farming of raw materials, industrial production, transport, packaging and retail. It ends with consumers' washing, drying, ironing and the final disposal of the garments.
A pair of terylene trousers weighing 400 grams consumes nearly 200 kwh during their two-year life, if they are washed on average 92 times and then dried in machines and ironed. That means during two years, the trousers are responsible for 47 kg of carbon dioxide emissions, 117 times their own weight.
Compared to a synthetic fiber, cotton, leather, and some other natural materials consume less energy, thanks to not going through the process of production that synthetics undergo. But that doesn't mean they don't cause pollution. The University of Cambridge's Institute for Manufacturing says a pure cotton T-shirt weighing 250 grams is responsible for producing 7,000 grams of carbon dioxide during its lifetime, nearly 28 times its own weight.
Even these clothes, made from non-synthetic fiber, cause different kinds of pollution during the processes of bleaching and dyeing. The dyeing and printing industry associated with the textile and apparel industry in China takes up nearly 58.7 percent of its total energy consumption, and has become the main area that needs to change in terms of the energy-saving and emissions reduction target for the industry.
Eco-circle clothing
On September 20, 2009 , the result of a survey on the clothing and consumption habits of young Chinese was jointly released by Jane Goodall Institute (JGI) in China, an organization aims to advance the power of individuals to take action to improve the environment for all living things; Li Ning Company Limited (Li-Ning), China's leading sports apparel company, and other Chinese institutes.
Based on responses of 2,294 urban residents aged between 21 to 40 in four cities in China, the survey showed that people in this age group were the major consumers of clothes. They were concerned about styles and prices of clothes.
Most of the survey respondents said it was the first time they had heard about a link between clothes and environmental issues such as carbon emissions. Many of them said they would pay more attention to low-carbon clothing consumption and try to increase the life-span of their old clothes, JGI's founder Jane Goodall said.
The survey is part of the Eco-Circle Clothing project JGI China Roots & Shoots' Beijing Office launched in 2000. "The goals of the survey were to collect information about clothing and consumer habits of urban residents, and to enhance awareness clothing also has a carbon footprint and we should look for low-carbon clothes," Goodall said.
Eighty percent of carbon dioxide emissions from clothes come from its materials, its manufacturing and transportation processes. If you use the clothes for a longer time, the emissions are reduced year by year. Eco-circle clothing indicates these emissions from clothes during their life cycle draw people's attention to eco-friendly clothing, said Ali Mai, Director of Focus Magazine, a co-sponsor of the project.
Low carbon clothing provides ways to reduce carbon dioxide emissions of clothing during its lifetime, including purchasing clothes with lower carbon emissions factors, clothes made of recycled materials, or using clothing for a longer time to reduce total energy consumption.