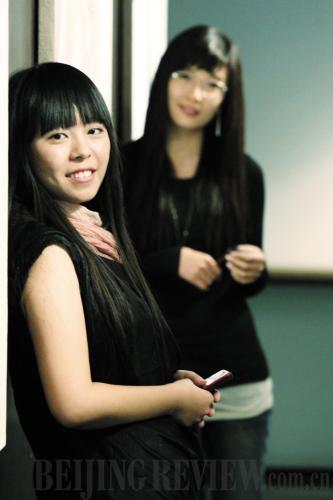 YOUNG AND CREATIVE: Zhong Xi and Wu Xiaowu (front) are both post-1980s writers who get to fame by writing fictions online (COURTESY OF SHANDA LITERATURE)
Ancestors of old, using animal skins and bamboo slips as communication vehicles, would never be able to grasp the reading convenience and bliss experienced in the current digital age. From news to fiction, electronic devices like laptops, mobile phones, e-readers and others keep readers in touch with an endless supply of written works.
To embrace the ecstasy of digital reading, businesses devoted to digital and mobile text, picture, sound and video content have sprouted up one after another, while a younger generation of writers produce content exclusively for Internet and mobile device users in China.
E-books will surpass printed books in terms of market shares worldwide by 2018, according to conservative estimates from the Frankfurt Book Fair this year. But will it herald the end of printed books? Pan Kaixiong, publisher of the Beijing-based People's Literature Press, doesn't think so.
"Network media will not replace traditional media and instead the two will learn from each other for syncretization in the long run," he said. "The two, though of different forms, have to win with content."
The "content is king" philosophy remains a belief shared by traditional and digital publishing companies alike. "Technology and communication vehicles only serve the content, but whether we can have more content-related creations is the key to the market prospects for digital publications," said Hou Xiaoqiang, CEO of Shanda Literature Ltd., a wholly-owned subsidiary of NASDAQ-listed online gaming giant Shanda Interactive Entertainment Ltd.
Digitized content
At the Frankfurt Book Fair, which concluded last month, 30 percent of the publications on display were in digital formats, while more than half of the activities designed for publishing professionals were themed around the future of e-books and digital content versus the printed word.
As a leader in China's digital publishing industry, Shanda Literature gave a presentation at the 23rd International Rights Directors Meeting that preceded the Frankfurt Book Fair. Zhou Hongli, Chief Copyright Officer of Shanda Literature, gave an overview on recent developments of the fast-growing digital media industry in China.
By the end of July 2009, China had an Internet population of 338 million, more than three times the total population of Germany. Latest statistics from the China Institute of Publishing Science showed that 69.3 percent of Chinese netizens are reading online and 29.4 percent read from their mobile phones.
The institute released the results of its sixth survey on national reading habits on April 22. While 24.5 percent of Chinese adults read using digital devices, mostly via the Internet (15.7 percent) and mobile phones (12.7 percent), about 2.8 percent of them prefer to read only on varied digital devices, the report said.