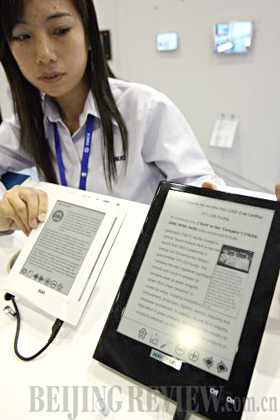 PORTABLE LIBRARY: Two new e-reader models are on display at the Electronics Manufacturing Exposition in Suzhou, Jiangsu Province, on October 22 (XUZHIQIANG)
Zhejiang Province's Orion Zhang has spent a lot of idle time in recent years reading, but he has neither bought many books nor visited libraries. Instead, he carries a mobile library in his pocket—the PRS 500 and the Kindle DX, two electronic devices that enable him to read digital versions of real books.
"I've finished hundreds of books and comics on my e-reader devices whenever I have a bit of time in the car, on the bus, at the bank or coffee shop or in bed," said Zhang.
Passengers holding e-readers are everywhere in a big metropolis like Beijing—waiting in line or standing in subway crowds. Since online retailing giant Amazon first went after the e-reading market by releasing its Kindle electronic reader, more players have begun to enter the new industry.
Why the e-reader
"Compared to other digital reading experiences on mobile devices such as cell phones, PDAs or PSPs, e-readers offer me a more traditional, book-like reading experience," said Orion. Most e-readers use the technology called electronic paper, or e-paper, which is a display innovation designed to simulate the appearance of ordinary ink on paper.
Different from the conventional flat panel display, which uses a backlight to illuminate its pixels, e-paper reflects light like ordinary paper and is capable of displaying text and images indefinitely without drawing electricity. E-paper is more electricity-efficient than the LCD. Zhang said the battery of his PRS 500 e-reader could last a month after charging if he reads a couple of hours each day.
"People's reading habits, which have been formed over thousands of years, are hard to change in a short time. We need some digital substitution that somehow resembles conventional books," said Zhou Jin, former vice president of China's Founder Group, an IT giant. He added that the size of the e-reader could not be too small.
E-readers have the potential to take the place of conventional paper, meaning a major decrease in demand for much of the world's resources, business insiders said.
The market includes no more than 4 million sets of e-readers in 2009, but that number will jump to 12 million in 2011 and 18 million in 2012, according to statistics from iSuppli Corp., the global leader in electronics value chain research and advisory services. Another market research company, NextGen, reported that the global e-book market would maintain an annual growth rate of 124 percent up to 2013, with the market value scaling up to $2.5 billion.
The size of the market has lured many Chinese companies to compete, including the Founder Group, which has announced it will launch a new edition of its e-reader at the end of 2009 called WeFound, which some say is a knock-off of the Kindle 2 e-reader.
China Mobile, the world's largest mobile services provider with 500 million customers, started its own big push to develop e-reading this year. The company is contracting device-makers to develop custom e-readers and is also teaming up with content providers.
The Beijing Hanwang Science and Technology Co. Ltd., a market leader based in Beijing, said it sold 200,000 of its Hanvon brand of e-readers last year. The company expects to sell 500,000 units this year and more than 2 million in 2010, partly due to an agreement to distribute its readers to China Mobile users.
Small startups like Shanghai's EDO Technologies Co. Ltd., which was founded in March, are also taking aim at the market.
"After a thorough market analysis, we predicted that it would be a big chance for us in the e-reader market in 2009," said Chen Yunhui, Business Development Director of the company.
The immature
Chen said the biggest difficulty for the company is providing legal content. The company is trying to work with many publishers to digitize their books and fill its online bookshop for users.
"Publishers are slow and reluctant to work with us due to both the little recognition of e-book publishing and the complicated IPR issues that are involved," said Chen.
E-reader market growth is hampered by the fact that content is in short supply. Even a big player like Hanwang has a library of just 30,000 books available for download, which its users complain are not new or interesting.
It's too costly to get copyrights for the most popular books. For renowned publishers or online book giants, they are not yet bothering to make the effort to gain a little profit out of e-publishing, said Liu Yingjian, Hanwang's Chairman.
The majority of China's digital readers are mostly being filled with unauthorized books. According to a China e-book development report, released this year by an alliance of publishing and Internet companies, 95 percent of Chinese who read electronically download pirated literature.
"One big question is what monetization models all these companies can develop for e-reading in China," said Shi Lei, an analyst at telecom and media consultancy BDA.
The main content provider so far is Shanda Literature, a unit of Shanda Interactive, which is an Internet portal that offers online games. China Mobile has teamed up with Shanda, helping the company tackle its shortfall of content.