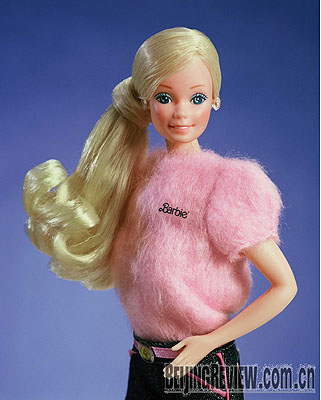 Like girls the world over, Chinese girls are obsessed with Barbie. The world's most famous doll has been in China for almost 10 years and is seemingly gaining in popularity, with the signature long blonde hair gracing the shelves of every major toy outlet.
Zhao Xiaochu, 7, asked her mother to buy a new two-storied Barbie home for her. The owner of three Barbie dolls, the little girl now dreams of a house to make her Barbie friends more comfortable.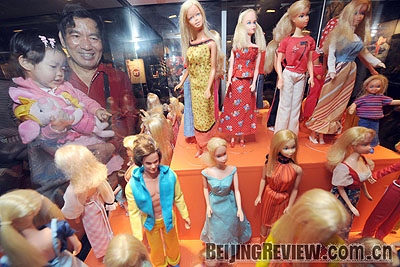 BARBIE WORLD: A girl in Hangzhou is enchanted by a display of barbie dolls (LI ZHONG )

Her mother, Pei Donghui, 35, a staff member of a private company in Beijing, agreed to her daughter's request, despite products related with Barbie being somewhat pricey for ordinary Chinese families.

"By nature girls love anything beautiful, and so does my daughter," Pei said. "From a young age she tried to choose her own clothes. Barbie is the thing she loves most and the clothes that Barbie wears are what she wants to try on some day."

Having no chance to own a doll as fashionable as Barbie during her childhood, Pei hopes her daughter could find fun in the dreamlike Barbie world.

Actually, although entering her 50th year, Barbie, the most popular and best-selling doll in the world seems to have lost none of her appeal as she charms her way into hearts of millions of Chinese girls, and even adults.

According to Life Style, one of the popular fashion newspapers in Beijing, Barbie dolls are now sold in more than 200 cities in China, and the sales volume in big cities is still rising even after the economic crisis swept the world last year. According to the Beijing office of the agent of Barbie in China, the sales volume of Barbie dolls in Beijing has increased by up to 60 percent year on year. The monthly sales of Barbie at Scitech Plaza, a major shopping center in downtown Beijing, tops 100,000 yuan ($13,200) on average. The figure of those department stores near schools is even higher.

Based on this popularity, babiwawa.com, the largest online platform for Barbie fans in China, was founded in 2006. Besides information about Barbie, the website also provides self-developed Barbie-themed games, and a blog and forum space that enables Barbie lovers to exchange their stories about Barbie.

Mattel's China strategy

Because of Barbie's growing popularity in China, Mattel Inc., the world's premier toy company and the creator of Barbie, hopes to expand its business in China, in order to have Barbie well placed to deal with other toy brands, such as Bratz and Hannah Montana, which are snapping at its market share.

Reuters reports that Barbie sales in the last quarter of 2008 declined by 21 percent worldwide, much worse than the drop in Mattel's total sales during the same period.

To counter this, Mattel set up a Barbie flagship store in Shanghai, the first of its kind in the world, as a pilot of a new sales strategy and services in an overseas market. The Shanghai store was open to the public on March 7, and has doll lovers wide-eyed and determined to convince parents to open their wallets.

According to barbieshanghai.com, the official website of the store, the six-storied home of Barbie in Shanghai is the biggest Barbie franchise store in the world. Covering more than 3,500 square meters, it offers around 1,600 varieties of Barbie dolls and related products in more than 40 categories, including dolls, clothes, books, movies, cosmetics, electronic products and stationery.

The most eye-catching part of the store is a big rotating staircase from the third floor to the fifth, which is surrounded by 875 Barbie dolls that includes the collection designs of Barbie over the past 50 years, such as the Marilyn Monroe-style in 1997 and Elizabeth Rosemond Taylor-style in 1999.